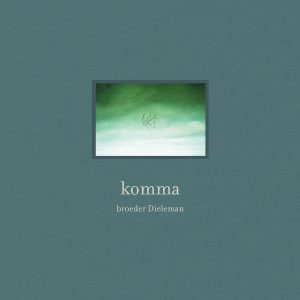 Easy to categorize as the "Dutch Bonnie Prince Billy", Tonnie aka 'Broeder' Dieleman has ventured into a career of his own, made of strong asceticism and unrelenting musical research. These are ingredients that place him among a restricted circle of artists in contemporary songwriting. Seamus Fogarty is another name that comes to mind among the ones who have tried to combine new Americana (sharing a reference to Oldham himself) with traditional European folk and experimental music, but there are few others.
Komma, starting from the ponderous, stunning artwork that includes a photo book by the artist, represents a milestone in Dieleman's career, an attempt to solidify all his previous work in a sort of naturalistic liturgy, made of field recordings of the life that can be heard in Dutch canals, as much as made of subtle, evocative music. Banjo is again the main actor, together with sparse, chamber-like arrangements for piano, drums, cello, flute. Dieleman's singing is also liturgical, bordering on spoken word most of the time, with a female voice adding melody and musical tone to the songs.
This does not come at the expense of songwriting, as the song 'De Groeten' proves, but Komma's songs are indeed peculiar, absorbing the lesson of acoustic post-rock (bands like Balmorhea, for instance, see also 'Onaf pad') to replicate the moods of natural life, of weather and of the corresponding human emotions.
One of the most demanding records, this year, in terms of attention requested (the record is sung in Dutch and, also, the second part is made of two 15-minute long field recordings), but one that exudes inspiration at every note. It's an inspiration that comes from a strong spiritual center, that irradiates to all parts of Komma, from 'Cristophorus' jam-like, casual ending to 'Jane Pape' shamanism, with its weird, Waits-ian instrumental parts.
Words: Lorenzo Righetto