Following her 2017 tour, Eleanor Friedberger took a sojourn to Greece to recharge and explore her Greek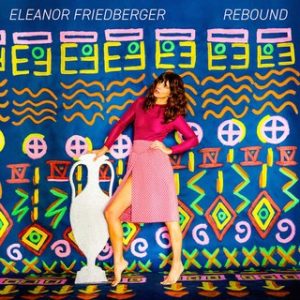 heritage. She also learned to do the chicken dance at Rebound a late night, or early morning club (depending on your perspective of 3:00 a.m.) in Athens. It also became the name of her new LP. But this isn't necessarily the Friedberger disc one would have expected.
Instead of a band album, this is pretty much a one-woman-show, heavy on the Juno synthesizer, programmed drum tracks and subtle guitars. Not exactly what one would expect from the former Fiery Furnace member or for that matter from her solo career either. At points this music is almost perky, upbeat, and danceable.
Twisted, literate pop music may not be in vogue, however this could be the disc to change all that. The lead single, 'Everything', is a delight, a litany of desires set to Roland and synth-drums, "All my life I wanted everything, I won't settle and I won't think twice about anything." Not exactly pure pop for now people, but not that far off either.
Bright and bouncy, 'Make Me A Song' is a reaction to meeting a born-again Christian.  Becoming a meditation on the songwriting process, Friedberger looks for a sense of direction and finds it in songwriting. Art becomes an outlet for self-discovery, "it takes the ear to hear the waves, and the heart to know you feel some feeling."
The pop of 'In Between Stars' is another one of those tracks that belies deeper sensibilities that one might take away from the keyboard led soundtrack. The payoff coming in the final lines just Friedberger and a drum machine, "I don't know how I've come to see the world exclusively through your eyes, everything I buy and do and eat with you in mind."
From the snap of the electronic drums to the Juno keyboard washes Eleanor Friedberger is an artist who has come back stronger following her sojourn in Greece. This album reaffirms her status as an artist whose work provides depth that takes this pop framework and delivers something completely unexpected. Which is what the best pop music always does.