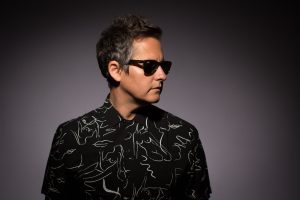 Josh Rouse proved to be the perfect antidote to a cold, wet Wednesday April evening. His delivery and vocal style is full of soul and warmth and he likes to make gentle jokes in-between songs, like when telling the audience how beautiful they all were and then admitting that he couldn't see anything because of his sunglasses.
He opened his set with 'Salton Sea', one of the stand out tracks from his new album and followed it up in typical new album tour fashion with track two 'Ordinary People, Ordinary Lives'. The two songs do compliment each other perfectly though and it was a great start to the show. Throughout the evening, he was backed by musicians that he said have been playing with him for years and it definitely showed. The chemistry between them was one of the reasons that the nearly two hour set seemed to fly by so quickly.
Sprinkled in among the new songs were old favourites like 'Come Back (Light Therapy)' , '1972' and 'Dressed Up Like Nebraska' and, even those these got bigger reactions from the crowd, I think that the more ferment fans have already embraced the new material with 'Businessman' and 'Women and the Wind' in particularly going down well with the sold out crowd.
Rouse seemingly ignored all song requests, something that he's given into in past shows, choosing to stick to the chosen set list. I'm presuming that this is because he has a new album to promote. It's easier to deviate from the script when there isn't so much riding on the tour. 'Love In the Modern Age', the title track from his new album already has fans singing along to the chorus, a tale of how hard love can be can in these challenging economic and political times.
Overall, Rouse is a songwriter at the top of his game, experienced enough to know how to bring a crowd a long for the ride but still pushing himself to move in new directions. An enjoyable night was had and it wasn't one spoilt by mobile phones and talking. We were all here for Josh and his storytelling, and what a thing it proved to be.
Words: Mark Buckley
Photo: York Wilson