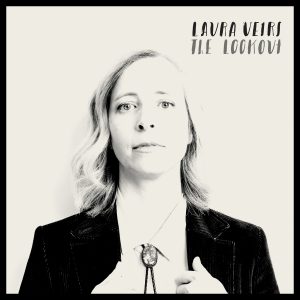 Laura Veirs is an accomplished songwriter based in Portland with 20 years of experience under her belt. Her proficiency and attention to detail shine through in this album to create a palette of emotional depth and lightness. This is a concept album about fragility, nurture and protection of precious things and people, which is particularly relevant in these politically turbulent times.
Opening track 'Margaret Sands' is a polished production with plenty of seaside imagery and beautiful vocal layers and harmonies. It features a scenic instrumental interlude with uplifting choral elements and soothing guitar sounds. The following track, 'Everybody Needs You', is essentially the ethos of this album. In a press release, Veirs said "The Lookout is about the need to pay attention to the fleeting beauty of life and to not be complacent; it's about the importance of looking out for each other," Veirs addresses the fallout of the American election by encouraging a sense of community and togetherness in turbulent times. This is an optimistic song full of the pastoral imagery she is known for.
Joni Mitchell's influence can be heard prominently in the next couple of tracks, particularly in 'Mountains of the Moon'. In 'Watch Fire', campers take turns to tend a watch fire which aligns with the concept of the album and promotes the importance of helping each other and balancing life.
The lyric "I can't read these people, I can't be there eyes" opens the title track, 'The Lookout'. The middle 8, in contrast to the up front verses, is more laid back and vocal layers and reverb create a sense of space and distance. "What if I had never stumbled into you? What if you had never stumbled into me?" Veirs contemplates the small moments in life here and the life changing effects of ignoring them and getting too distracted by the busy world.
'The Meadow' is a fragile, delicate piano song and a highlight of the album. It is graceful and elegant, filled with beautiful nature imagery "No fear, no confusion, just the sliver of the moon," This is about letting go of the political chaos that surrounds us and taking some time for friends and family "We knew it wouldn't last, it was beautiful." It's about embracing the cherished moments in life and taking time to escape from fears and worries, however briefly.
'Lightning Rod' is a meandering direction for Veirs with an electronic kit beat that runs through the track making way for a more experimental soundscape. Apt, considering this song is about a lightning rod channeling energy. The lyric is very much in keeping with the themes of the album with mention of Ben Franklin who famously said "We must, indeed, all hang together or, most assuredly, we shall all hang separately." after signing the Declaration of Independence.
As Veirs approaches midlife, she addresses the realities and struggles of life around her "I have friends who've died; I struggle with how to balance life as an artist with parenting young children." The result is a mature and candid portrait of everyday life through Veirs' eyes.
Words: Kirsty Folan