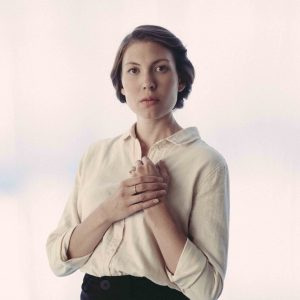 Alela Diane's fifth record Cusp is her best to date. A touching reflection on motherhood, it tackles the complex topics of family and relationships. It is filled with moments of pure beauty, among them the rumination on the passage of time 'Moves Us Blind'.
The whole of Cusp was written during a three-week period spent in a cabin in Caldera, Oregon, with 'Moves Us Blind' itself a product of a period of bad weather in the region. "While I was at Caldera it snowed and snowed and snowed," Diane said. "I'd sit by a huge wall of windows overlooking a stream and watch it fall. I thought of how my life had shifted, and how I'd suddenly been thrown into an entirely different chapter since my daughter was born. Time moves strangely and leaves me dumbstruck at times. It's endlessly fascinating to me."
Today we're delighted to bring you the premiere of the video for this song. A work of art in its own right, this stunning film, directed by Carissa Gallo, captures the dreamy mood of the song perfectly.
Alela will play a sold out gig at London's Union Chapel tonight, and 'Moves Us Blind' is released as a single on May 4.