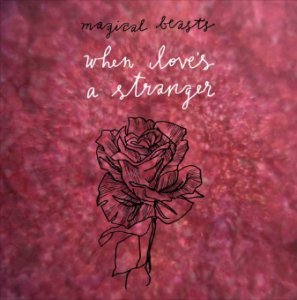 Magical Beasts are a rising Chicago roots band whose primary goal is to make "mostly simple folk and songwriter music set to compelling, lyrical instrumentation and interwoven vocal harmonies." Or, so it goes on their IndieGoGo campaign page, anyway. The indie troubadours are gearing up to cut some vinyl with help from the crowdfunding site, pressed onto which will be the results of their first two major efforts: an EP (When Love's a Stranger) and an LP (Peninsula). Taking light notions from country, bluegrass, and rock while they're at it, their music could be rightfully called a finely-blended Americana. Though, at its heart are the broken-down characters and oddball, hopeful nostalgia that only pure folk could create.
Such is the case of When Love's a Stranger, the focus of our review today. The five tracks present on the EP are all steeped in the sort-of pensive reflection one might expect from a folk release created anytime between today and 1806. What makes the release compelling, thematically, is in how Magical Beasts go about developing these stories of "various versions of lovers and love songs. In this case, mostly thwarted love songs."
Instead of tack on a straightforward melancholy to proceedings, the band digs deep in their arrangements to make them both refreshing and utterly human. Frontman Nathan Paulus makes a convincing folk rambler, irreverently and forthrightly diving into failed relationship after failed relationship and frankly relaying to his audience all that went wrong in greater detail than some might expect. Between Paulus' delivery, tight harmonies, and delightfully off-the-beaten-path instrumentation, Magical Beasts' latest effort is wholly compelling.
When Love's a Stranger is, all-in-all, a worthwhile listen for anyone worth their folkin' mettle who are looking for a new band to really sink into and reflect with. Better yet, it's a worthwhile inclusion alongside their also-excellent LP to be pressed onto vinyl come later this year.