Just at the point when you think you have Jonathan Wilson pinned down he changes the game. Sometime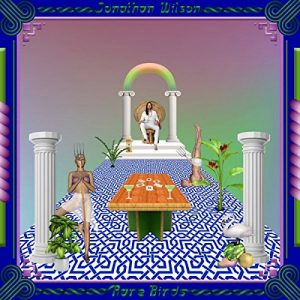 artist, full-time producer (Father John Misty, Karen Elson, Connor Oberst), then all of a sudden he's playing guitar and singing in Roger Waters' touring band and contributing to his Is This The Life We Really Want album. Yet he still found time to record a new, seventy-nine minute disc, Rare Birds. And just to confound us he's included synthesizers and drum machines for the first time.
Describing Rare Birds as "maximalist," Wilson uses up to one hundred fifty tracks to achieve a layered, lush density. Yet, there is still room for mystical, magical moments, 'There's a Light' is a first take that was written one day and recorded the next, during tracking sessions for the album. 49 Hair Flips features vocals from Josh Tillman yet the lines that seem to ring through most of all are Wilson's closing lines, "I'm not leaving these walls tonight without the prettiest song I can find. I really miss your laugh most of all."
Laraaji, while not the first person you think or recording with Wilson, contributes samples, vocals, and zither to 'Loving You', one of those tracks with so many layers it's almost otherworldly. The same might be said of 'Living with Myself', featuring vocals by Lana Del Ray, where what comes through most clearly is the sense of loss, "these darker thoughts are now guiding me. So it goes, that same old nagging feeling, to do wrong, I start to believe them."
This disc is almost impossible to digest all at once, there is so much going on. Rather than focusing on Southern California seventies sound, Wilson seems drawn to the palette of early Peter Gabriel and mid-period Kate Bush. Even 'Hi-Ho The Righteous', with its pedal steel guitars turns on a dime overtaken by shade and nuance.
Each Jonathan Wilson disc has staked out new territory musically and lyrically. Whether it's playing with Roger Waters, or producing Karen Elson, each experience provides an opportunity to learn something new – something that shows up in Wilson's work. Always stretching the limits, not content to stay in one place, Rare Birds is the kind of challenging work that makes Jonathan Wilson so unique.
Words: Bob Fish