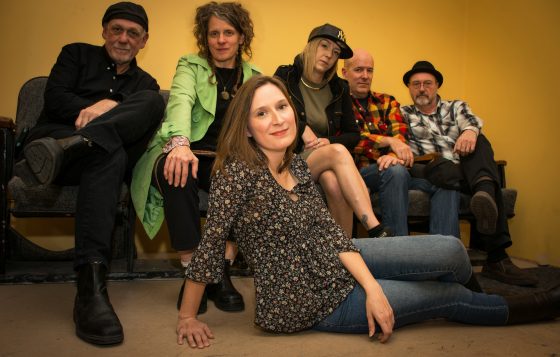 Toronto singer/songwriter Collette Savard had been searching for a fresh start, and that's definitely what's she achieved on her latest album, Collette Savard and the Savants.
After releasing three independent records with her former partner, John Zytaruk, Savard was determined for her next project to expand her scope by connecting with some of Toronto's most experienced, dynamic and creative musicians. The results are a brilliant folk-jazz-blues hybrid showcasing not only Savard's own highly affecting performances, but the contributions of the aptly named Savants. Backup singer/percussionist Rebecca Campbell and bassist/producer John Switzer were both well known for their past work with Jane Siberry, while drummer Martin Worthy was a longtime musical collaborator with the celebrated late Canadian author Paul Quarrington. Martin brought along his daughter Megan to play keyboards, and the line-up was rounded out by prolific Toronto jazz guitarist Tim Posgate.
The songs were written throughout a period of great upheaval in Savard's life as her 13-year marriage and musical partnership came to an end. She channeled the mixture of emotions that came from that time into songs like "In Over My Head" and "I'm Counting On You Heart."
Although the album was born out of deep sorrow, Savard views it as a testament to optimism and empowerment. As the band began jelling, it allowed her to try on some different musical hats, as on the Stax Records-influenced "It Shines," and the Steely Dan-esque "Last Cigarette." Overall, anyone familiar with Savard's previous three albums will likely be surprised by this new effort, which in the end became precisely her intention.
[bandcamp width=100% height=120 album=2025658327 size=large bgcol=ffffff linkcol=0687f5 tracklist=false artwork=small]
How do you describe the writing process for this album?
I never write specifically for an album. I'm always writing songs as they come based on whatever I'm living. Eventually things come together to allow me to record the best of my songs. Some of these songs have been kicking around for a few years, others were written leading up to the recording sessions. We had a bunch more tunes we would have liked to record but didn't have the time or money so there's certainly another album's worth ready for the next go round. The chosen songs are a departure from my older material, which was full of melancholy.
I guess if you had to tie these tunes together with a theme it would be one of empowerment and optimism. I originally was going to title the album after the song "I'm Counting On You Heart." As my 13-year marriage came to an end, this song was a secret anthem for me. It mainly represents the moment I truly absorbed the idea that my happiness was all up to me and that this was ok. It's a conversation with my heart—"You needn't struggle or strive you need only to keep alive this little light of mine" pretty much sums up the sentiment that has carried me over the bridge between my old life and new.
How did the Savants come together as your band?
Ironically, I was singing "I'm Counting On You Heart" at an open mic that Rebecca Campbell was also taking part in. It was the first time she'd ever heard me, and she was so taken by the song that she immediately offered to collaborate and eventually she helped me put the Savants together. In the end the song that made it okay for me to take on the world alone brought me one of my most important allies.
It has been a lifelong dream to have a great band and I'm grateful for every show they play with me. A fan once referred to them as my "Cadillac of a band." I don't own a car or even have a driver's licence but this is the only Cadillac I'll ever need. They take my songs to new places; fun places I never thought I would go. They've turned clawhammer banjo tunes into reggae songs and folky guitar numbers into dance and soul tunes, while somehow keeping the essence completely intact. They truly are Savants!
What other songs on the album do you feel best capture your current musical vision?
I guess the overarching theme is how I've been rebuilding my life, so songs like "Copper Moon" and "In Over My Head" speak to my search for meaning when things didn't work out as planned. "The Hardest Part" and "Top Of The Trees" are about being broke and alone and yet somehow seizing the day and bringing more joy in my life." "Check," "Cecil St." and "My Last Cigarette" all delve into the struggles I faced with my mental health, but rather than my darker tunes of the past, they all have a thread of light-heartedness that I think speaks to how these things aren't some sort of anomaly with me but just things everyone deals with. There's only one love song on the album and I even hesitate to call it that. I'd call it more a song of passion, which compares an actual fire with the metaphorical fire of a new relationship. The verses simmer along until the chorus bursts into flames.
Who are some artists who may have inspired this project, and why?
I can't really say how directly any one artist has inspired me but generally I'd say that although I was born in the 1980s I seem to be mostly stuck in the '60s and '70s. I love Fleetwood Mac, Paul Simon, Joni Mitchell and Tom Petty, and I also love James Brown, Marvin Gaye and Al Green. I like a lot of old roots music like old Delta blues, classic country and old time music, but my favourite singers of all time are Chet Baker and Nina Simone. I grew up singing French folk songs and then French pop in high school so there are certainly threads of that in my writing. It's all in there.
I'm often asked by strangers what kind of music I play and though it's cliche to think I'm totally unique it's sort of how I feel. Though the caveat is that I haven't invented some new form of music, I just eat from a really vast buffet of genres. The common threads are well-crafted songs, strong melodies and groove. In the end, I've never once tried to write in a similar style to the artists I love. I just don't have the skill to emulate.
How would you describe your overall artistic evolution to date?
I've always been an eccentric writer. I have no formal training. My brother-in-law is a multi-instrumentalist bluegrass player who taught me three chords when I was 12 years old. He told me recently, "You went away and came back playing in minor keys so I knew you were a songwriter." From my perspective, not having any resources led me to realize I could just make up my own thing so that's what I did. In the early days I had a kind of wonky rhythm but I didn't want my uniqueness to keep me from playing with the best musicians. I took an African hand drumming class because I figured if rhythm was what I needed I should go back to the source. I think it helped a lot. In the end though, I'm still pretty eccentric because that's what happens when you don't know the rules, you don't follow them. So as far as evolution of my craft is concerned I would say I haven't changed that much. I'm still catching songs, and I never repeat myself because I don't know how.
Words by: Jason Schneider