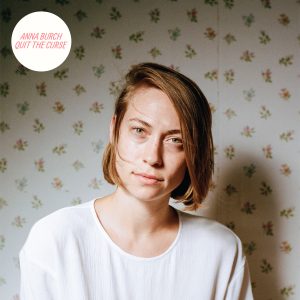 Fans of Frontier Ruckus will certainly be stricken when they recognize the face of Anna Burch on the cover of her solo debut album. Anna Burch has been a touring member of the band from early on, but just recently had strayed away from music to focus on grad school – but also sketching new songs on demo.
When you read the story of how Anna Burch's songs evolved from sad singer/songwriter solo stuff into glowing guitar-pop tunes, you can definitely retrace what was probably a natural and necessary evolution of her music. From one side the belonging of this record to the more recent streak of female songwriter style is apparent – it is probably also apparent that solo, spare songwriting albums are now becoming less and less popular. On the other side, Anna's songs are probably not strictly solo material, and admittedly the work on the band arrangements (which takes advantage of some notable collaborations) are really a perfect fit. Just listen to how 'Tea-Soaked Letter' becomes a 90s power-pop hit.
Sometimes the arrangement work lightens up, in every possible sense, the song, as in 'Asking 4 a Friend', which suddenly seems to bloom over a fuzzy prog riff, in the bridge leading into a kind of Liz Phair chorus, with some staccato strum patterns. It's the kind of minute work that, even in such a standard band setup, infuses depth in a record. Similarly to what has been done in recent many other records (Mothers, Angel Olsen, Sharon Van Etten), only that Anna Burch's more linear, straightforward lyrics and her sardonic, melodic songwriting lend themselves to a poppier sound.
There is in fact much to be liked in terms, purely, of tunes, with some sing-along moments ('What I Want', '2 Cool 2 Care'). Sometimes the songs feel as if Tennis had drifted towards 90s revival, instead of 70s, and this melodic attitude is a quite rare and precious attitude in her field.
Some words must be spent about Anna's flawless intonation and delicate, sober timbre – which are admittedly a two-edged blade. Sometimes it feels like it comes down to guitars to release some grit into the songs ('In Your Dreams') and her rare 'angry moments' ('Asking 4 a Friend') turn out to be somehow blunt. On the other side, her voice is some of the main reasons why 'Quit The Curse' is such an endearing record, as the country ballad 'Belle Isle' proves.
Words: Lorenzo Righetto (Twitter)