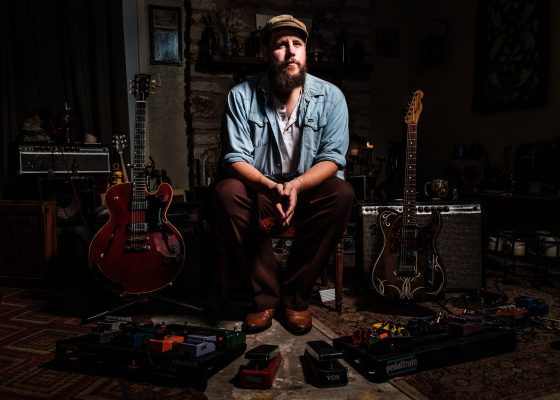 Johnny Dango just wants to make good ol' rock 'n' roll. Stillwater, Oklahoma-born and Austin, Texas-based, Dango released his new LP, Dear Everybody, I Love You, this past January. A nine track collection rooted in gritty rock 'n' roll, boot-stomping country and atmospheric psychedelia, it further secures Dango's position as an outsider to the current Americana establishment, delving heavily into the political, the abstract and the cerebral. We caught up with Dango about the album, the term Americana and fishin'.
Tell us about Johnny Dango.
I'm from Stillwater, Oklahoma. I was born there, went to school there and played my first gigs there-with Stoney LaRue when we turned 21 and they'd let us in the bars. I didn't get my first guitar until I was 17, so I wasn't very good at 21, but I played 4 nights a week, with Stoney, and then in my own bands. I moved to Austin in 2001 and went about trying to find my way in the scene. I'm still trying.
A lot of people call my music Americana though the term doesn't appear to mean all that much. Almost everything coming out now seems to get placed under the Americana umbrella. I personally think my music is plain and simple rock 'n' roll. There are elements of country and blues, gospel and jazz. Once upon a time, when all of those styles were combined, people labeled the music rock 'n' roll. But now the term "Americana" exists-I guess for marketing purposes.
How do you define success as an artist?
I define success by whether or not I'm happy with what's going on. That could mean with my bandmates, with how the shows are going, where the tours are taking us, if my writing is meeting my own standards, if I'm getting better at my instrument or learning something new. There are a lot of different ways to define success and very few of them have to do with money for me. That said, I'd like to make a lot more money. This artist's vow of poverty is b.s.
If you could only play one of your songs for the rest of your career, which one would it be?
I'm going to cheat here and pick two of my songs because I honestly can't decide which one would be the only one I'd play for the rest of my life if I was forced to choose by some evil music haters. Either "1492" or "Hole In My Heart." It would depend on the setting and my mood, I suppose. If I was cranky, it would be "1492" and if not, well… the other one, I guess. Both seem to work well enough whether I'm playing with a band or solo acoustic. "1492" can be soft and mellow or taken down a totally dark Crazy Horse alley. Which I enjoy. "Hole In My Heart" has been a lot of fun to play live and I don't think I'll get tired of it anytime soon. I hope.
Who do you consider your greatest influences?
Influences… 1960s & 70s rock, folk, & country covers a lot of ground. I listen to a lot of classical music and all the old blues guys, too. I like to think I'm pretty well rounded. I've been on a pretty good Pink Floyd kick lately.
Outside of music, what do you like to do that you feel contributes to the creativity that you tap into for your music?
Outside of music, fishing and gardening keep me mostly sane, although I've moved a few times in the last couple of years and my garden, such as it is, is really down to just a few potted plants. And more and more touring means it's harder and harder to keep those alive. Really, succulents are about all that seems realistic. But digging in the dirt, watching things grow, and nurturing them along the way really does wonders for my state of mind. I don't know that there's any direct correlation to it and anything I write, but I know it's good for me.
Same goes for fishing. I think it's being outside and trying to connect with the natural world somehow, which seems more and more important to me when I spend so much of my time in front of the computer or on the phone, trying to line up enough shows to pay the rent. I'm maybe even happier beside a stream than I am onstage, though it's certainly different, and it doesn't even matter if I'm catching anything or not. Just like it probably doesn't matter that I missed that note or nailed it. You always want to nail it, just like you want to catch that elusive fish. At the end of the day, though, I was there, present in the moment, and that's enough.