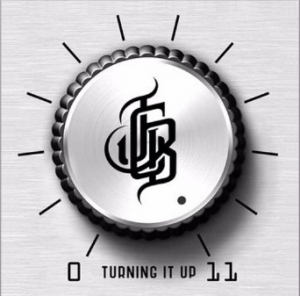 When FFS covered the Jay Clark Band earlier this year, we lauded the outlet for embracing genuine outlaw musicality this side of Cincinnati. Now, the quartet is back in action with a full-length album set for release on 15 December.
Clark worked hard to stretch his songwriting chops on the record, saying, "I wanted to show growth both as a writer and creatively. I set out to write songs that had deeper meaning and could keep the listener interested from the first note on 'Turning It Up' to the last note on 'Hometown'. I hope I've done that."
We can say without a shadow of a doubt that his intentions have become reality on the record. Lead single, title track, and album opener "Turning It Up" sets the dial to 11 as Clark and his bandmates blaze right on through the rocking party anthem, with Rob Carlson's stellar guitar solo near its end acting as a highlight. Thematically, it seems a bit commonplace for a country-fried rocker, where Clark applies his gritty, accessible vocals to a tune about "raising your SOLO cup" and all, but it's in the authentic rock delivery that it becomes more tolerable.
Clark keeps the attitude rolling on through the yearning, Skynyrd-like "On My Way" and the grooving drill of "Won't Let You Down", applying a particular confidence as a frontman that might seem newfound to listeners of his previous work. His record is more or less a collection of outlaw tales with folk, country, and rock frills intertwining amidst one another. It could be a little more varied, but the record has a certain listenable edge that can grab you in a world where Southern rock is a bit more of a rarity. In that world, Clark and his boys do enough to keep fans of the genre's palates satisfied.