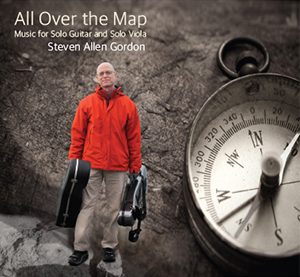 Spanning genres, vocations, performance styles, and beyond, the world of artists who've made a living for themselves doing what they love is incredibly diverse and effervescent. You see them on the big screen and selling out theatres, to be certain, and even in the back of a smoky bar, doing what they've done for decades and still making a respectable living doing what they do best even if they haven't become the next Beyoncé while they were at it.
Yet, have you considered that, perhaps, many of these artists may well go mostly unseen? Even outside of the local venue, there is the consummate, college-educated multi-instrumentalist, performer, and composer who may not see much of the limelight for themselves, but press on to make that light the limiest some productions may ever well see. This is a part of what defines an artist like Steven Allen Gordon, who has spent his life as a viola and guitar master offering his craft to hundreds of film scores and TV shows.
You may not know his name, but he finds honest success and joy in what he does. His latest solo output, though, will hopefully be spreading this multi-instrumentalist and doctor of historical musicology's work to a much broader audience. His performances across All Over the Map range from his takes on the evocative and calculating Bach to the very poetic and rhythmic verses of Heitor Villa-Lobos. They're rich not only in his ability to perform such exacting compositions so precisely, but in what lies between every note in the performer's own ardor.
Steven Allen Gordon is taking you on a journey with this instrumental record, and it's abundantly clear that he, for one, is happy to go trekking with you. Take his hand and head on this journey with him if you're looking to be treated to one of classical music's hidden gems.