After briefly toying with just the first name Alessi, Alessi Laurent-Marke has returned from a four year break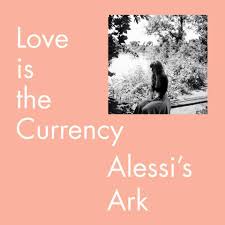 with a new Alessi's Arc album, Love Is The Currency; a new label, Zooey Records, and a new producer, Jag Jago. There's also a new emphasis on creating sounds that are just a step or two left of center.
Featuring Memby Jago on drums, the Maccabees' Felix White on guitar and co-writing help from Will White (Felix's brother), this disc bristles (but gently) against some of the norms. Things get more challenging the father into the disc you go. Portal serves as a key to the 34 minutes that follow, as Alessi makes it known, "I'm told sound is the portal to the immortal underground."
Less folky, more synthy, Cut The Cord uses layers of keyboards to add a fuller, denser sound. Synths and vocals weave in and out of River, creating elements unlike her previous work. The sound of Alessi's voice is often lower in the mix, used more as an additional instrument, adding tonal flavors.
There's a sense of experimenting with sounds on Love Travels, yet at the same time the music is incredibly breezy as if it's almost floating away. Much more is going on with this disc than the ear initially hears. Multiple listens are required to catch all the sounds beneath the gentle breezes.
Fragility seems a key to a song like Lovefly, as if at any time it could all just float away, yet at the same time there's also incredible strength. The mystery is how music that seems so simple can be so surprisingly complex. Stray is an example of how strings and horns can be arranged to take things to a new dimension not apparent at first glance. Songs open up like a blossoming flowers, with new shades appearing when they are least expected.
There's a wall of sound in wealth of acoustic guitars on Desert that would make Phil Spector proud, yet nothing seems out of place. This disc has been carefully conceived, nothing is left to chance. Alessi Laurent-Marke has high ambitions on Love Is The Currency, ambitions that have been achieved.
Words: Bob Fish