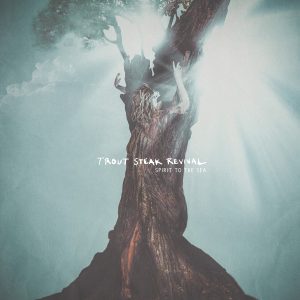 As a successful bluegrass outfit today, Trout Steak Revival's place in music today is indicative of how working hard and building some quirky lore around your quirk moniker to live up to can both pay off. One Michigan-to-Colorado road trip and a few years in a slow burn up the Denver circuit later, they're one of the burgeoning bluegrass darlings of the 2010s. They won the Telluride band competition in 2014, convincing an Infamous Stringduster to produce for them, and the results of that tale being woven are still being celebrated to this day as the band only grows even further into their spot in today's world of string bands.
Their new album, Spirit to the Sea, feels like a natural progression and wild reimagination of the band that first stepped into the studio with Stringduster Chris Pandolfini to lay some tracks in 2015. On one hand, just two years removed from Brighter Every Day and with the same faces playing and producing the affair, an air of trustworthy familiarity can almost be guaranteed as it is here. If you were a fan of the tight vocal harmonies and bang-on instrumentation of these faces' original collaboration, you'll almost certainly be a fan of their newest coming together.
Yet, there's something else here that sets the record apart from its predecessor in a very clear-cut way. That much can be chalked up to the passion and intensity with which Trout Steak Revival tackles their latest output. Spirit to the Sea is every positive that Brighter Every Day had, but performed with that much more can-do gusto that brings the band more in-league with seasoned acts like the Stringdusters themselves. They bring rock sentiment to bluegrass methods, creating a sound that will get you up on your feet to dance a jig without at all sacrificing the storytelling that the latter genre has always been known for at the center of its work.