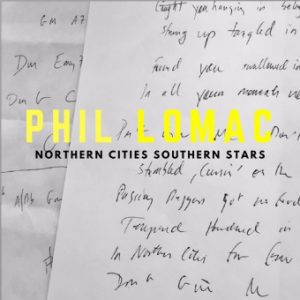 Every so often, a one-man band just comes around and wows us all. Most notoriously these days might well be Jack White and Shakey Graves, but throughout history, there've been a few. Remember Jesse Fuller and Doctor Ross?
These days, multi-instrumentalists such as Michael Dause have been hitting the studio to completely self-develop their work. This means that they're one-man banding the whole shindig and one-man producing the entire thing on top of it. Charlotte, NC's own Phil Lomac is one such artist who's completely self-making his own studio efforts in the hustle and bustle of this 21st-century world.
It's not the best production in the world, of course. You won't be reaching the same level of mastering or polish that you would be under the guidance of someone with years of experience in sound engineering and a degree to match it, but there's a certain homemade quality to the type of record that Lomac's put out with his new genre-melding effort in Northern Cities Southern Stars that just oozes in charm. Perhaps it's in a nostalgic sentiment for the garage band recordings of old, or maybe it's in the sheer impressiveness of the fact that this guy's done this all on his own. 
Either way, there's something here for everyone on Lomac's latest considering it rides the line between several different genres and somehow connects them in a way that isn't much confusing so much as it is brilliant. Northern Cities Southern Stars is a sonic gut-punch of sheer alternative rock, indie pop, and rootsy folk goodness all wrapped into one. It's all very "Wilco from out of the basement" between the self-made production and the sheer mass of eclectism that is Lomac's style. It comes across as an intriguing experiment for the least and a cool trip into the mind of an up-and-coming, potentially brilliant composer for the best.
Check out the artist's Bandcamp!