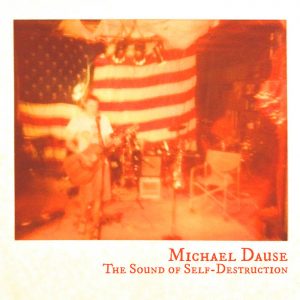 Since his self-titled first full-length release in 2012, Novi's Michael Dause has exemplified himself as a tour-de-force, capable of completely self-producing a competent release from top-to-bottom. From a contemplative, versatile lyric and vocal delivery paired with complex multi-instrumental backing courtesy of his skills as a drummer, bassist, guitarist, overall percussionist, pianist, tin flutist and theremin extraordinaire, he encompassed a number of influences this side of Death Cab for Cutie and that side of Modest Mouse to develop something in-between and all his own.
Though unequivocally best known for his work alongside fellow multi-instrumentalist Michigan wonders, Savannah Buist and Katie Larson, with celebrated indie genre-benders The Accidentals, Dause has long since been a wonder all on his own. There have been a bounty of releases thus far, even, to prove it, from his aforementioned self-titled release to the ethereal synth and grunge of his altogether mystifying work under the Treeskin moniker. With years as a solo artist and Accidentals staple, touring and recording music under various names and in various styles, Dause has only gotten better, and a work best reflecting the honed-in nature of his craft are at play on recording now in the form of his second full-length release, The Sound of Self-Destruction.
[bandcamp width=100% height=120 album=2023870577 size=large bgcol=ffffff linkcol=0687f5 tracklist=false artwork=small]
Despite the gloom of the album's title, Dause's latest would see him as anything but self-destructive from an artistic perspective, with a culmination of pure rock and roll, folk, funk, electronic, and piano pop influences coming together again under the guise of an artist who has more know-how than ever about how to wrap his mind around his vision and allow it to breathe and function just as he had intended it to. Together with a further bittersweet overall theme that remains wholly present from the start with opener "Doors" and ending with "Letters", The Sound of Self-Destruction is an intimate peering into Dause, what makes him, and what makes him tick.
Everything that made his self-titled release a winner four years ago are ultimately present again on his sophomore effort, but fine-tuned and honed-in upon by around 1,500 days' worth of unbridled passion for his art form paired with just as many days spent living a life. We at For Folk's Sake hope for many more years of Dause operating as the Accidentals' drummer extraordinaire yet, but we'd be lying if we said that his solo efforts weren't just as appealing as the massively acclaimed Mitten band's tunes are, if not for different reasons entirely.
On a shallower note, what is one thing that should get Accidentals fans looking into Dause's music ASAP aside from his trademark incredible instrumentation being able to show off even more sides of itself? His vocal prowess has only gotten better – and boy, is that voice something as it conveys sadness and reflectiveness across any number of musical styles. In and of itself, it's becoming a Mitten trademark to remember – alongside the rest of his incredible artistry.
You can buy Dause's latest album, The Sound of Self-Destruction, on his official Bandcamp page.
Words by: Jonathan Frahm