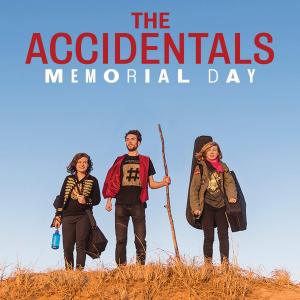 It's been quite the year for For Folk's Sake favorites The Accidentals, who've been riding through 2017 on a wave of good vibes and stellar new music after being signed by Sony Masterworks. The inimitable Michigan trio has been touring their new material around the country to raucous applause, and often with the involvement of guitar extraordinaire Jake Allen. Their new album, Odyssey, is releasing this coming August and naturally, they, we, and their tens of thousands of fans can't help but be incredibly excited for their next big step forward!
In the meantime, they've been taking sizeable strides in the right direction—first with the release of "KW" featuring Keller Williams, and now with the release of their second Odyssey single in the form of Katie Larson-penned and performed 'Memorial Day'. With, as frontwomen, Larson and Buist maintain a similar range, their vocals are distinctively separate from one another in regards to their basest qualities. Whereas Buist maintains a captivating lilting sweetness in her performances, Larson takes her songs on with a distinctive earthier quality that is just as compelling in a way that is all her own.
Rather than analyze just what makes her song so great, however, we'll just attach it below and let it do the talking for you. If you dig it, head on over to iTunes and give it a purchase to help support indie music! For more information on the band, visit their official website.
https://open.spotify.com/track/3s1Fp9QTQH6Mx4Pzvwoilp
Words by: Jonathan Frahm