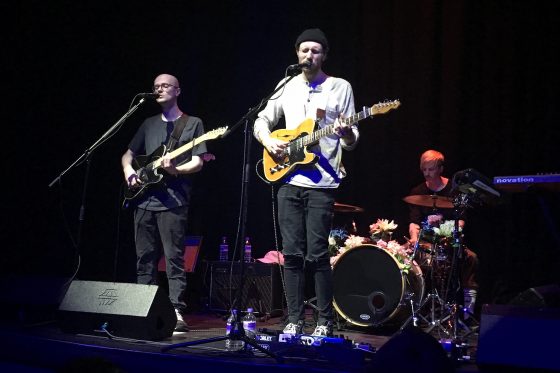 In advance of the release of his second EP Bathing Beach, Novo Amor returned to London's beautiful Hoxton Hall.
Opening the evening was singer-songwriter Blanco White, who wowed the audience with his delicately constructed songs. Having studied the Spanish guitar and charango, Blanco brings together graceful finger plucking of both instruments, supported by undertones of sparse electric guitar. His songs impress throughout, combining his guitar talent with smooth and mellow vocals, he also displays this on a unique cover of Jungle's 'Lucky I Got What I Want'. An impressive support act who, following an impressive response from the night's crowd, is well within his right to headline venues of this size.
Novo Amor then unassumingly took to the stage, Welsh multi-instrumentalist and producer/sound designer Ali Lacey was supported by his band, which includes long term collaborator (and worthy artist in his own right), Ed Tullett. Lacey thanked the crowd, appreciating the change in venue since his last headline at basement venue The Waiting Room, to the many tiers of Hoxton Hall, to which he followed up with "There will be a lot more tears tonight…".
Although a modest stage presence, Novo Amor instantly grips the room with songs that build over layers of tender, quivering falsetto vocals, atmospheric chords, and airy guitar. Ed Tullett provides the vocal harmonies which perfectly compliment each other as the music rises to an uplifting crescendo and the rawer vocals become all the more impactful. New songs from both upcoming EP Bathing Beach and better known tracks from his earlier Woodgate release, continue to stun and force the couples in the venue into each other's arms.
With Ed Tullett on stage it would have been plain rude not to share some of their collaborations, with the epic swelling songs 'Alps' and 'Faux' further displaying how extremely talented and aligned these two artists are, a rumoured collaborative album on the horizon is bound to continue on the same level. Upon introducing his cover of Guns N' Roses, Tullett jokingly started with the famous 'Sweet Child O' Mine' riff, before leaving the stage to allow Lacey to wow the crowd with his take on 'Welcome To The Jungle'.
Finishing on their debut song 'From Gold', Novo Amor had the audience mesmerised from start to finish. Every exquisite strand of instrumentation used built to something grander, and it is clear how sonically driven every element of his music is (presumably heavily influenced by Lacey's career as a sound designer). However, the most spellbinding sound of all comes from his delicate and fragile falsetto.
Keep an eye out for the release of Bathing Beach and every other impeccably put together piece of music that is bound to come from this enchanting artist.
Words and photo: Andrew Goulton