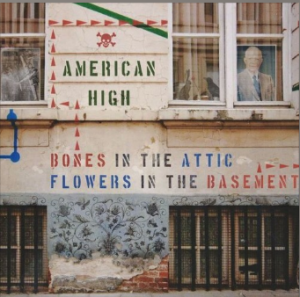 What a thrill it was to first crack open American High's debut full-length record for a potential review from this writer. Not because the associated press release attached to the Sacramento-based quartet promised tunes both bizarrely pop-oriented and thematically dark this side of some sort of vibrant 90s-centric amalgamation of Green Day and Nirvana, but because of the opening track alone.
I can hear you asking yourselves now – "'Fairfield, Ca'…  What's so special about Fairfield, California?" Well, quite honestly, to most people, there isn't much special about Fairfield, California at all, but to me, to me, Fairfield, California just so happens to be my hometown. The place where I'd spent the first 14 years of my life forming into the sprightly adult form of Jonathan Frahm that we all know and love today!
Thankfully, the ode to my homeland kicks things off with colorful garage punk that paints a promising picture for those in love with a throwback to rootsy, punchy rock with attitude that once pervaded the 1990s into the early 2000s. From there, the aural world that they're aiming to emulate is par for the course for the American High boys across the remainder of the album.
In a way, it occupies a space similar to where the Orwells found acclaim with "Who Needs You" with scorching, bonafide rock-and-roll all the way up to 2014. They come in with the same sonic attitude, but with less of the political intrigue, instead focusing more on the heart and the love of pop-punk pioneers like New Found Glory. They play with acoustic frills and lo-fi thrills here or there, denying to live only to be compared to their predecessors, however, and with their raw vocals, imperfect harmonies, and ride-or-die out-of-the-garage sound, there's plenty to love here for the rock purist.
All in all, American High starts out their career in full-length releases on a coincidentally high note.
[soundcloud url="https://api.soundcloud.com/playlists/315677889″ params="auto_play=false&hide_related=false&show_comments=true&show_user=true&show_reposts=false&visual=true" width="100%" height="450″ iframe="true" /]
Words by: Jonathan Frahm