Nottingham's own Jack Peachy has been on a prolific run recently, with this 12 track EP coming just six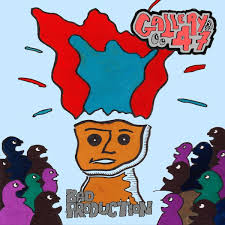 months after the release of his latest LP Clean. Bad Production is an EP that wears its heart on its politically-active sleeve, and seems rather appropriate in its release whilst the United Kingdom is in the midst of a General Election.
Peachy, under the Gallery 47 pseudonym, crafts a series of alt-folk tales within the 12 tracks found on the EP, and whilst comparisons have been made in the past to Jeff Buckley, the music Peachy makes can be traced more closely to the deft finger picking of more recent contemporaries Nick Mulvey, or the wry lyricisms of Conor Oberst. One of the standout tracks on the EP, 'Quiet Concerns', references a fight Peachy found himself in; 'I've got a scar, red on my thigh/I was Ill/but I didn't die', before alluding to anxiety following the news of a car crash 'I'm terrified about going outside again'. This may seem to err on the over dramatic, but Peachy is contextualising the little worries people have but never voicing.  The juxtaposition between this and the jaunty finger-clicking of subsequent track 'Cave Man/Your Time' is deliberate, and allows Peachy to change tack and focus on an abusive relationship between an alcoholic and his wife.
The EP is centred around lead-single 'Political Differences', which shares its initial lilted vocal delivery with Supergrass' 'Alright', and indeed, the uncanny link is traced in the lyrics with the emphasis on 'it'll all be alright'.  If Peachy can concentrate on focusing on tales of the ordinary people, there is a captive market out there. His fellow Nottinghamshire writer, Alan Sillitoe, made a living out of focusing on the kitchen-sink life of Arthur Seaton in 'Saturday Night and Sunday Morning', and Peachy has a similar knack of creating interest out of the ordinary.