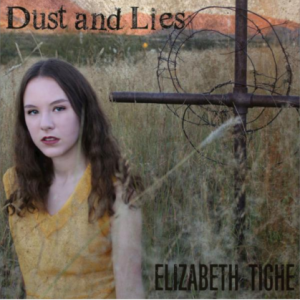 'Dust and Lies' is the latest from Phoenix-based folk-rock artist, Elizabeth Tighe. Some will remember the review that we here at For Folk's Sake had published of her previous album, Smoke Rises, around a month back showcasing her natural ability to write and perform with earnest lyrical progressions to pair with her powerhouse vocals. It's still no wonder to us why she has had the success she's had as a rising Arizonan star with such a winning amalgamation, and the lead single from off of her upcoming album only serves as further proof fueling her deserved ascension.
Made at the studio of Tucson Americana maestro Petie Ronstadt, the song is a step up in production and self-assuredness for the singer-songwriter as she takes more of a rock-edged sharpness to her delivery than her previous works. The song is an ominous, windswept anthem befitting of the graveyard in which the compelling accompanying music video takes place in. All in all, it's another great addition to Tighe's portfolio as she continues to bubble to the top of Arizona's music scene, and certainly one worth a watch and a listen.
For more information on Elizabeth Tighe, make sure to visit her website! She can also be followed on Facebook, Twitter, and Instagram.
Words by: Jonathan Frahm