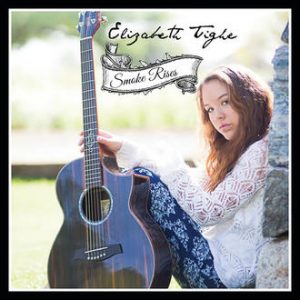 Amongst the throngs of rising indie musicians throughout the U.S., Arizona might well be one of the most revered in terms of the sheer mass of great roots music coming from the state. Whether it be an Americana amalgamation this side of Ronstadt Generations y Los Tucsonenses, a masterclass guitar-centric rambler from Ryanhood, or an earnest, heart-on-her-sleeve acoustic performance from Joyce Luna, the southwest has proven itself to be quite the region for up-and-coming artists in the modern age. Somewhere amongst them all is Phoenix-based artist Elizabeth Tighe, a precocious singer-songwriter with compelling lyrics, arrangements, and a powerhouse voice that have already won her the attention of such names as Alice Cooper—let alone much of the music-appreciating Arizonan and Californian populous.
Though Tighe is already putting the finishing touches on her second full-length album, her first, Smoke Rises, is still quite worthy of any praise that it may receive in the current moment. Released just around a year ago in 2016, it was the nine songs present on this album that had garnered her awards and recognition with the aforementioned Cooper's "Proof is in the Pudding" music competition, as well as a finalist position in the Tucson Kitchen Musicians Association's revered annual Folk Festival.
Upon even just the first listen of this record, it becomes abundantly clear just why Tighe was able to garner such acclaim for her debut—it seriously is just that good. Furthermore, in embracing a totally folk attitude in the tradition of gathering a slew of other musicians in the collaborative spirit, she has gone on to work beside droves of Arizonan artists on both her debut and live performances to much acclaim. This is a record dripping in Arizonan sentiment, let alone a compelling sound that blends much of what the desert state has become musically known for in blurring the lines between folk, rock, bluegrass, and blues to develop something utterly individualistic—and captivatingly so.
Each of the eight songs present on Smoke Rises represent a different side of the whole artist that Tighe is. This is true from the titular opener's soaring, alternative rock-tinged chorus to the hopeful and folksy "Numbered Days", which tops off the record. Other favorites of this humble writer in particular are the somewhat offbeat arrangement of the rollicking "Blue Horizons" and the simultaneously melancholy and sweet acoustic number, "Soldier", the latter especially being such an earworm that it really is no wonder that Tighe has garnered the respect and acclaim in the Arizona scene that she has after just one full-length release.
All in all, there isn't much left to say other than this record gets a wholehearted recommendation from us at For Folk's Sake! If you're wondering about where Tighe might be headed next, fear not—you can follow her via her website, Facebook, Twitter, and Instagram.
http://https://www.youtube.com/watch?v=Xg8-llp2BJk
Words by: Jonathan Frahm