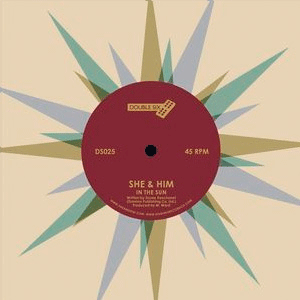 'In the Sun' opens with the chirpiest of piano lines, openly declaring its credentials as a summertime pop tune. However, the upbeat, bass-led riff that accompanies Zooey Deschanel's matter-of-fact delivery undercuts any sadness that might be inspired by the picture she paints of a lacklustre relationship:
It's hard to be ignored
When I look at you, you look so bored
My baby my darling, I've been taking a beating.
The laid-back character of this pop song won't tear your heart apart – it'll just sort of tickle it and skip off into the distance. Tilly and the Wall pop up to provide a sing-back echo for the chorus, and the sheer quantity of voices singing the same, hard-of-heart declaration only emphasises the sense that everyone will suffer a similar fate:
Well all right
Well all right
It's OK
It's OK
We all feel ashamed sometimes (every day).
This is a brilliantly executed pop song, but the abundant talent of Mr. Ward is too quiely expressed for my liking. Perhaps the rest of Volume 2 will give 'Him' more room to shine.
Words: Helen True