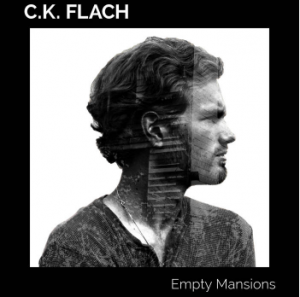 At the forefront of the rising indie scene, and yet kept safely tucked away from the shallow eye, are the genre-benders. Bands, duos, and soloists who dare to ride the electric in new and exciting ways by fusing elements of the old together into something new have been finding notoriety across their respective cities as they inevitably bubble to the top of them en masse. We've seen it with Traverse City's Accidentals, who have, at this rate, probably achieved the record for the most genre-based influences tossed into a blender at once to complete a song, and we're seeing it with Phoenix's Elizabeth Tighe as she deftly hops between elements of rock, blues, bluegrass, and folk in her respective tunes. These are front-most reasons why these two acts are some of this writer's personal favorites—they dare to be different, to innovate.
It should be no surprise, then, that when I'd been cued into C.K. Flach's latest album, Empty Mansions, that I'd warmed up to it almost immediately as I'd hit "play" on that EPK. Flach develops an altogether dark and hopeful concept album around lyricism that evokes a feeling of leaving the past behind for something new, and this much is assisted by a compelling, radio-ready voice alongside—and this is the big one—truly captivating arrangements. They lie somewhere within the realm of the rock and blues of Uncle Lucius and the emotional knowingness that has pervaded much of Conor Oberst's work since he first hit the big time decades ago with the emergence of Bright Eyes.
These fetching arrangements are helped along by compelling choices in instrumental development. With a sweeping string ensemble acting as the glue that keeps the rollicking guitar, layered vocal harmonies, ethereal mandolin, harmonica, bass, and drums together, Flach creates a modern folk orchestra to remember him by on his latest effort.
For more on Flach, including a neat place to purchase Empty Mansions, visit his Bandcamp page!
Words by: Jonathan Frahm