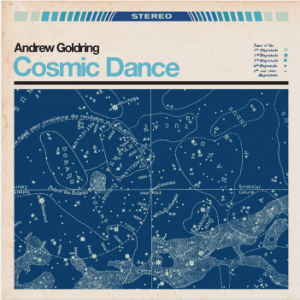 Have you ever dreamt of Neil Young in outer space? Have you ever imagined what it would sound like if he and a spacey glam rocker like Ziggy Stardust-era David Bowie somehow diced up their DNA and created some sort of ultra-human baby together? Based on the ethereal calm of Andrew Goldring's latest single, "Cosmic Dance", you would figure that the Utahan folk-cross-rock singer-songwriter would be aspiring himself to surmount the odds and prove himself to be that baby.
Goldring traditionally has put in his dues with the accompaniment of bands, like the rollicking roots outlet Golden Sun or the grungier vibes procured this side of Great Interstate. Well, you can take the boy from the band but you can't take the band from the boy, as the old saying goes. While he is certainly doing his own thing and doing it well now, once you know a thing or two about his varying multi-person projects of the past, the influences contributing to the sound he's going for with his new music becomes that much more apparent.
"Cosmic Dance" is a marriage of two entirely separate sounds that Goldring had, at one point or another, taken part in producing in either Golden Sun or Great Interstate. Deftly, he circumnavigates the creation of a fusion of alternative rock and straight-up folk brilliantly well, and the end result is a hypnotic, ebullient track telling of his strengths as a songwriter as they all converge into a singularity.
To stream and purchase 'Cosmic Dance', visit Goldring's Bandcamp page! For more information on Goldring, visit his Facebook page and official website.
Words by: Jonathan Frahm