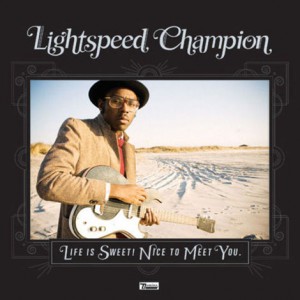 It's been three years since Dev Hynes joined the Saddle-Creek alumni in Omaha, Nebraska, to record his debut LP, Falling Off The Lavender Bridge. For his latest release, Life Is Sweet! Nice To Meet You, he chose to go further east to Brooklyn to work with Animal Collective producer, Ben Allen and backing band Spacecamp. Now, how has this transition affected his sound? Well, it hasn't dented his ability to write catchy, country-tinged pop, although this release is definitely aiming for a different overall style.
He playfully darts between genres and styles, from piano concertos (The Big Guns Of Highsmith), to funky riffs, disco violins (Marlene) and swooning waltz ballads (I Don't Want To Wake Up Alone, Madame Van Damme). This isn't just constrained to individual songs, as the classical piano riffs and theatrical choirs, complete with stomping percussion on 'The Big Guns Of Highsmith' aptly prove. Even the four interludes that are scattered across Life Is Sweet! Nice To Meet You contain arpeggios, tribal percussion and slow synth-laden electronica, the last of which features on 'Intermission' and album closer 'A Bridge And A Goodbye'.
While he may have left his pedal steel guitar behind in Omaha, he has by no means forgotten his Americana-roots, shown in the fiery Western-style hook of standout track 'Sweetheart'. This moving country and western tune, with its haunting background vocals, slow-building tension and sparse percussion, manages to comfortably work alongside Hyne's sentimental lyrics, while still recalling the cinematic instrumental soundtracks of Italian composer Ennio Morricone.
All of his influences slightly clash at first, but after a few listens, it becomes clear Hynes isn't content with solely being confined to any musical style, and his restless travels through genres become charmingly enjoyable.
Words: Jason Williamson