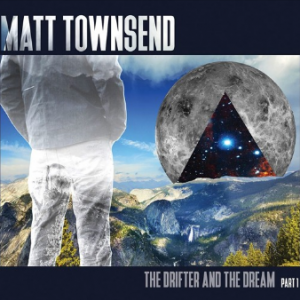 Perhaps not unlike the trailblazing icon Dylan himself, Asheville, North Carolina's own Matt Townsend has decidedly performed a steady two-step past the acoustic basis upon which he originally stood in a move to effectively expand his sound. Once again not unlike Dylan, thankfully, if Townsend's latest EP offering is any indicator of where his greater delve into electric-ended Americana and folk-rock will take him, the results are decidedly tucked somewhere snug within the general vicinity of "they're gonna take him places". Evoking a vibe similar to the classic folk-rock stylings of the Band or more recent outlets for the new age Appalachian like Jamestown Revival and the Decemberists, what Townsend has most effectively done is bring his penchant for evocative, rootsy songwriting into a roomier and arguably more scintillating locale.
The Drifter and the Dream (Part I) is decidedly the first part of a two-piece EP series that will—once the second EP is released—equal enough tracks to represent an entire full-length album's worth of Townsend's mind for fans new and old alike to latch onto and absorb. And as far as those fans go, Townsend is one who has been making strides in the right direction with his ability to make them and retain them by the droves. After all, 107 of them did fund his Kickstarter project to move forward with these EPs, which is, by and large, still not an easy feat despite the growing popularity of the platform for indie artists of all kinds.
Referring back to the first paragraph of this piece, it isn't exactly uncommon for an article on a music website to cite comparisons between up-and-coming singer-songwriters and Bob Dylan—we at For Folk's Sake would like to proclaim that we have a pulse and can, henceforth, tell as much. In Townsend's case, though, the resemblance truly is uncanny. While many can try to capture the same lightning in a bottle that Dylan did when he went electric, Townsend proves that he can, more or less, right out of the gate on this EP with his performance of "The Great American Madness" showcasing this straight away. Sincere, ironic, and altogether unapologetically Carolinian, Townsend makes strides in his musical journey on the first installment of The Drifter and the Dream, toting with him a package of captivatingly and unmistakably American music rooted in protest.
For more on Townsend, visit his official website, Bandcamp, and Facebook pages.
Words by: Jonathan Frahm