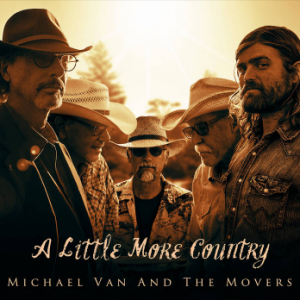 Taking cues from country, folk, rock, bluegrass and blues all rolled into one, Americana is arguably the captivating (let alone convenient) face of modern roots music, recently integrating such names as Chris Stapleton and the Drive-By Truckers into the pop fold with astoundingly mainstream appeal for honest-to-goodness music. Like the Band of Heathens before them, Michael Van and the Movers aim to take Americana by the horns in 2017 in a way that honors the amalgamated genre whilst showcasing their own individualistic flair. Whereas the Heathens did this through a burst into all things funk, rock, and folk tossed into a blender on their latest, however, Van and his Movers have decidedly gone in one direction with theirs—tossing in A Little More Country.
This much is as obvious as the sun is bright from their titular opening track on through. While it features some guitar licks and drums that may evoke more of a Southern rock showcase on the overall, beside some clearly bluegrass-influenced incorporation of mandolin, the song is, at its core-most structure, country and indelibly so. Besides the inclusion of that trademark countrified dobro action, the band's laden harmonies are very evocative of the type of country that modern Americana has built its backbone upon—the kind of stuff that everyone from George Jones to Kip Moore have embraced over the past several decades.
To the Movers' credit, all said, they serve country well, both sonically (and especially on their opener, in this case) and on through in the overall attitude that they have seemingly embodied on this record, too, in the simplicity of life down home. Whether they're pinpointing their focus on love, seduction, travels, classic roots stories of murder, or just plain ol' getting drunk, they are what they say straight on the tin with this one: A Little. More. Country.
You can stream and purchase this record on over at Michael Van and the Movers' Bandcamp page. For more information, visit them on Facebook!
Words by: Jonathan Frahm