There's a gentle revolution brewing and Will Varley is at the heart of it. With little more than a guitar and a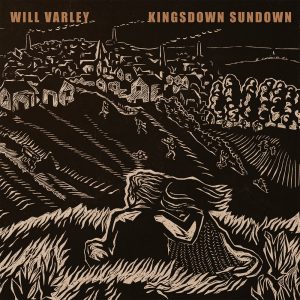 song he's changing the game and recreating a vocabulary that was going out of style. Kingsdown Sundown is Varley's fourth long player, and the second for Xtra Mile Recordings. Gently, yet firmly, he notes the flaws present in today's world.
Varley knows how to create a tone, avoiding the obvious, structuring a lyric for maximum effect. Album opener, 'To Build A Wall', could easily be about the recently completed political contest in America, "Out of fear, out of lies, out of money, out of time, out of faith and cannon balls, there's many ways to build a wall."
'We Want Our Planet Back' lists a seemingly endless series of ways that our planet has been sold out to special interests seeking a quick buck. "Another fascist in control, another rain forest turned to gold." Condemnation after condemnation is laid out against a gentle musical background. Rather than being jarring, Varley's simple musical accompaniment offers a possibility of hope, a way out of the darkness.
Varley delivers rays of hope that there are ways out of the darkness that seems to be descended on the planet. Closing the album, a simple four line soliloquy ends with, "we sat on the stone all evening, and we'll keep making plans." In the distance a bass drum rumbles each time Varley sings "plans." The question is what is being stressed?
Brilliant in its simplicity, Kingsdown Sundown illustrates the growing confidence and maturity of Will Varley. He is breaking through to another level while staying true to his folk roots. In this day and age that's a huge accomplishment. What makes it all the sweeter is that he has been able to do it on his own terms.
Words: Bob Fish