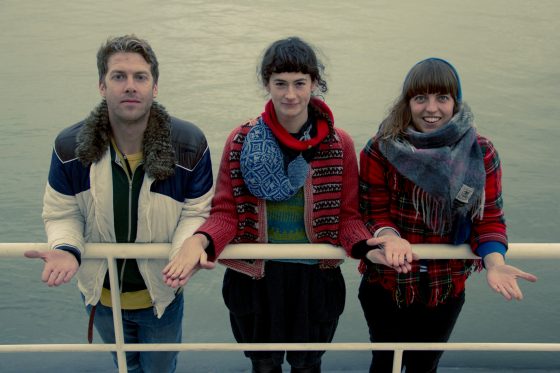 The stage is crowded like a primary school nativity play where every kid has necessarily been given a role. It's the culmination of a celebratory night of revolving cast members and cameos, with This Is The Kit beginning their final mini-tour of their current material. It's the miniest of mini tours with just two dates, the Union Chapel in London and Bristol's equivalent den of reverence and reverie, tonight's venue, Trinity Church.
Bristol is a home fixture for Kate Stables of the headlining act, who is joined by a backing band including singer songwriter Rozi Plain and, later on, forty or so members of support act the Fantasy Orchestra (motto: 'More is more'!) There's a party on the stage and everyone's invited. Literally, it seems. Even the bar man gets up to sing a song.
After considering taking a turn myself I opt instead to settle in and enjoy the fun. The party atmosphere really is an infectious one. Stables' songs, which are in general gentle and contemplative, benefit from the festive mood and the ever-changing personnel. 'All in Cahoots' and 'Silver John' get the crowd swaying and shuffling respectively. 'Spores All Settling' channels Sufjan Stevens, all banjo and reflection.
Stables breaks off occasionally to push a new batch of promotional tea towels or discuss her pet guinea pig. If you're looking for edgy you're at the wrong party, but if you're looking for a welcoming, whimsical, bring-your-own-knitting sort of vibe, come on in.
As the night draws on the massed ranks of Fantasy Orchestra join This is the Kit for some taunting of health and safety legislation and a few more songs. Aside from an ill-advised hurdy-gurdy (otherwise known as a hurdy-gurdy), it's an appropriately joyful finale to a night of kindly carousing.
Words: Dan Farmer
Photo: Alec Bemis