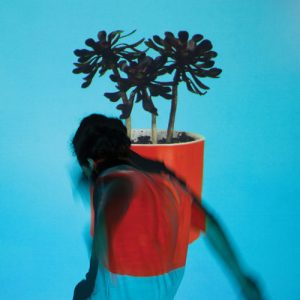 In seven years Local Natives have come a long way from the homemade, handmade vibe of Gorilla Manor to the slicker, synthier Sunlit Youth. The sound is bigger – synthesizers dominate the landscape. Matt Frazier's drums are huge and the vocals of Taylor Rice, Kelcey Ayer, and Ryan Hahn ring out crisply and clearly. Along the way original bassist Andy Hamm departed, eventually being replaced by Nik Ewing in 2012.
In talking about Sunlit Youth, Ryan Hahn expressed the band's philosophy, "… you have the ability to change your situation, you can start again everyday. We applied that to how we made music this time around. We wanted all the new songs to have a different energy, to challenge ourselves to do something different each time." The larger sound of this new record is at the heart of this change. There are hooks aplenty on this CD, only their third full-length release in seven years.
Local Natives have become experts at the big chorus.  A perfect example is the current single, 'Fountain of Youth'. Starting softly the song makes things clear,  "I think we'd better listen to these kids, we can't keep pretending we know what we're doin'," but the huge chorus would work perfectly on a festival sing along, "We can do whatever we want, we can say whatever we mean."
As guitarist and vocalist Taylor Rice reasons, "…our world is not fixed, it's constantly reemerging, and we can change it into whatever we want. In the same vein, 'Masters' deals with the notion that technology has made us all masters. 'Everything All At Once' begins almost inaudibly with refrain well down in the mix, followed by an acoustic piano that builds to a huge payoff, "all at once everything has become overflowing."
At the moment Local Natives are clearly overflowing with ideas. While they have taken their time between each release, the musical results both in care and clarity justify the wait. They continue looking to the future with a sense of awe at the possibilities.