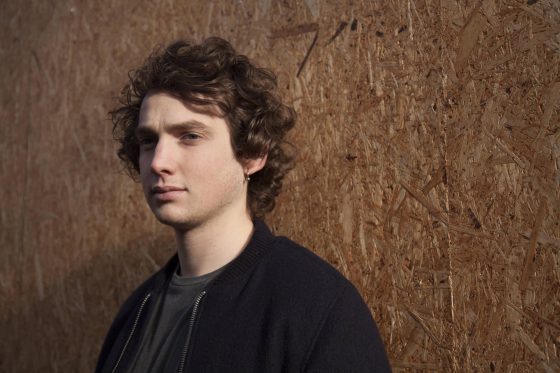 On a warm September evening we entered the beautiful and intimate confines of St Pancras Old Church. Here we were greeted by Irish singer-songwriter Eve Belle who kicked off the night with her lyrically driven whispy tones, alongside the gentle plucking of her acoustic guitar. Each song was delivered with a real honesty and emotion, often displaying that she is just as confident taking her voice to a loud and soaring level as she is with her more preferred soft and gentle style. With a standout cover of Dire Straits' 'Romeo and Juliet', Eve delivered a sweet set jam packed with emotion.
Next up was the nights headliner Dan Owen, in advance of the release of his Open Hands and Enemies EP the following week he took to the stage in front of a sold out crowd. Dan possesses one of my favourite attributes of a singer, where they look absolutely nothing like the sound they are able to produce, and the audience were soon stunned by the incredible noise that bellows out of this young mans mouth. His sound is driven by his huge gravelly tones alongside bluesy acoustic guitar riffs, you often hear people talking about a voice "filling a venue", Dan's strong roar had us pinned back in our seats throughout a performance that so easily could have been done without any amplification.
Dan's set offered a complimentary range of slow and fast paced songs, each displaying his incredibly strong and mature songwriting and accomplished vocal talent. Lead single 'Made To Love You' from his upcoming EP offered up a touching ballad covering the issue of domestic violence as a resolve to his friends own experiences. Whilst new song 'On Your Feet' provided an insight into a potential move to a more radio-friendly sound, with singalong choruses and a catchy change of pace driven by his digital foot drum. Over the course of the evening the church had become increasingly warm, which Dan put down to the atmospheric candles which "seemed a good idea at the time", but the heat was soon about to be ramped up further. Prepared from seeing Dan previously I was looking forward to his trademark 'finisher', his cover of 'Little Red Rooster', this was a real performance of absolute blues perfection, which saw him put his all into energetic multitasking, combining harmonica, raw singing and use of the foot drum which ended up exhaustively pumping both legs up and down as if riding an invisible tricycle.
Dan produced a great set, delivering every song with honest and heartfelt power, there is certainly no need to expand his setup, the rawness of his voice and guitar alone can produce enough noise to fill the largest of rooms, and from tonights performance the venues his voice will be filling are only going to grow in size.
Words: Andrew Goulton