Even when sharing a label with Oasis in the 90s, Teenage Fanclub never bowed to fad and trend, beating a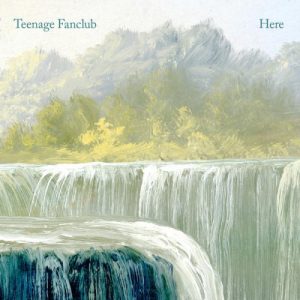 melodic path that didn't mask their Big Star and Byrds obsession. Almost 30 years since their birth, they remain an understated indie institution, encased in a time capsule with quality the constant.
There've been few slips over the years but albums are now appearing at an almost Blue Nile-esque pace, Here coming cold on the heels of 2010's Shadows.  That's not to say the Scots' core trio have been idle – Gerard Love's Lightships side project and Norman Blake's work with Joe Pernice as The New Mendicants both well worth the entrance fee. Yet there's something re-assuring about Love,  Blake and Raymond McGinley resuming the position, contributing four songs each to Here as on previous albums.
While distortion pedals were largely abandoned by the time of 1997 LP peak Songs From Northern Britain, long-standing fans will be pleased with the record's forthrightness. Electric guitars are centre stage from opener 'I'm In Love' onwards, a progression from the brittler Shadows.
Love's offerings are a particular pleasure, sun-kissed harmonies kicking in at all the right moments. The best may be 'It's A Sign', it's exuberant author exclaiming: "everyday is a stain-glass ceiling/life in the veins/the joy of being". Meanwhile, Blake's folkier 'The Darkest Part Of The Night' is string-soaked pop of the top order, a stirring cousin to The New Mendicants' cover of Sandy Denny's 'By The Time It Gets Dark'.
As on previous albums, McGinley is the anchor, his less ornamented writing the foil to Love and Blake's flair. But even he has more pep than previously: "Wake up I'm alive" the first words he utters on 'Hold On'. His next song, the slower 'I Was Beautiful When I Was Alive', kicks in at three minutes with the insistent refrain: "What are you gonna do about it?".
The album's title points to a sense of permanence and presence, perhaps a perspective only achieved in middle-age. Love sings on 'The First Sight': "things will pass/it's just the way it's always been planned/blow by blow I withstand".  Here for who knows how long, Here is Teenage Fanclub's most vital work in near-on two decades.
Pete Bate
@petebate