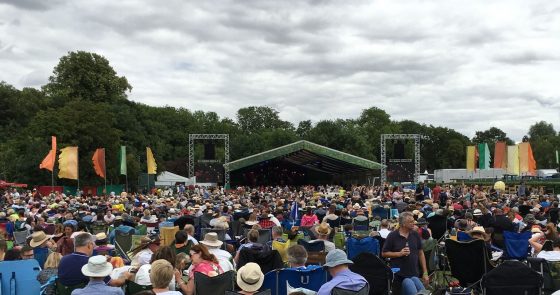 "I'm having such a lovely time I could almost cry," Kate Rusby declared in the middle of her main stage set on Saturday evening. Looking around at the thousands-strong crowd in front of her, it seemed the feeling was mutual. And that wasn't the festival's only moment of reciprocity between musician and audience – in fact, the whole weekend carried an atmosphere of communal celebration of the Good Stuff of Life. There's something about folk music that isn't afraid to say, as so many acts did during the course of the weekend, that though world is full of horror, meeting together to enjoy music is no insignificant thing. The togetherness of it all, the constant invitations for crowds to sing along with the musicians, and the generous support the audience gave to the newest newcomers as well as the established old-timers, made for a vibrant and life-affirming weekend.
Thursday night held performances from an angry Will Varley in the Club Tent, whose protest songs were cheered on as he held up a metaphorical middle finger to the government, while Jon Boden (former frontman of folk megaship Bellowhead) masterfully commanded the final slot on Stage 2 with songs about 19th Century weights and measures laws and the apocalypse, which apparently "doesn't actually mean the end of the world. It rather means the lifting of the veil, the unblinding of the eyes." Every day is a school day, even at a folk festival. Departing halfway through in order to catch young Cornish band Flats & Sharps in the Club Tent turned out to be a bad choice, as they were plagued by serious sound problems until ten minutes before the end of their set.
Friday began bright and early (well, midday) with MOJO magazine's interview with Kate Rusby, who took listeners on a brief tour of her career. Beginning with an upbringing where going to folk festivals was the norm, it is a lifetime's habit of prioritising what she's passionate about and working hard with people she loves that has brought her to where she is now. Humility shone through as she explained that she's still "astounded that people would finish a long day of work, have their tea early and then drive to see me play".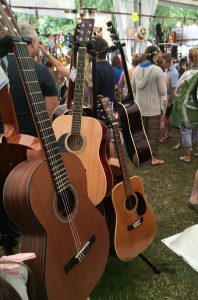 The afternoon held delights in The Den, the smallest tent offering emerging acts. Under a dark red canopy and in the half-light we could just about see the faces of husband and wife duo The Daydream Club as they shared a slice of their life with us, playing the song he sang when he proposed and 'Little Face', which they wrote together when both of their mothers were ill. Nathan Ball followed, with more than an air of Ben Howard about his haunting vocals and the striking lyrics of new single 'Right Place'. For someone used to playing with a full band behind him, he held the stage and the audience's attention with an easy, unassuming charm.
On Stage 1 KT Tunstall's silver trousers and boundless energy brought an unusual rendition of 'Black Horse and Cherry Tree', which descended into 'Seven Nation Army' via a surprising kazoo solo. Featuring songs from her early albums as well as from her September-release sixth album, she broke from her set list to articulate the spirit of the festival: "There's so much horror in the world at the moment. But here we all are at this festival, together. You can try and film it but you have to be here, to be present, in this tent together. The best weapon we have against all this horror is to experience joy." Her words were met with a mighty roar of agreement. Glen Hansard continued to broadcast this same spirit with a storming set accompanied by a string quartet, at one point strumming all of the strings off of his guitar, which was such an exciting musical moment that I had to tweet about it (and the caps lock wasn't accidental).
The big story of Saturday was told by the 24 hour evolution of Boston four-piece, Darlingside. Beginning with their Stage 2 mid-afternoon set as relative unknowns this side of the Atlantic, and ending on Sunday afternoon having sold out all copies of their album Birds Say from the merchandise tent twice over, meanwhile claiming Longest Queue of the festival for their signing stint at the MOJO tent. A pivotal moment was a late substitution for New York R&B legend Charles Bradley, who due to illness could no longer play his headline slot on the main stage, meaning Darlingside stepped in and around their single microphone for a surprise set in front of their largest ever audience. Rich four-part harmonies accompanied by warm, witty crowd banter won them instant favour with the several-thousand strong audience before them.
Sunday's highlights came courtesy of the blindingly skilful bluegrass band Della Mae, boasting a two times national US fiddle champion and powerful vocals. Sam Kelly & the Lost Boys, for whom it was their third consecutive festival appearance, enjoyed an upgrade to Stage 2 with their assortment of traditional folk song arrangements and original material. With a crystal clear voice and crowd-winning charisma, Kelly and his band stand themselves in good stead for a fourth appearance at next year's festival.
Senegalese singer Baaba Maal ended his set in the middle of the main stage audience; a tangible expression of the generous sense of togetherness that had been present all weekend. Cambridge Folk Festival is one that recognises any attempt to define 'folk music' is futile, and instead celebrates the people who make, listen to and shape it in all its evolving and diverse glory.
Words: Angeline Liles
Pictures: Angeline Liles & Jordan Harris