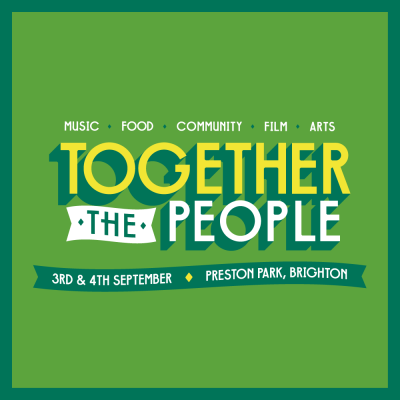 Together the People festival is returning to Brighton's Preston Park on 3rd and 4th September 2016. Brighton enjoys a year-round host of celebrations, with music, cultural, film and food festivals abounding, and Together The People promises to bring these together in an exciting weekend in the picturesque setting of Preston Park.
The family-friendly festival will feature three stages and a host of legendary and exciting new talent.
Brian Wilson receives number one billing, headlining on Saturday night with a performance of Pet Sounds – a now legendary album that Wilson co-wrote at the tender age of 23, which makes me feel old. The surf in Brighton might not quite compare with California but if the sun is shining this will be a moment to remember.
The Saturday line up is complimented with another For Folk's Sake favourite Nathaniel Ratecliff, playing alongside his band The Night Sweats – who combine to form a 8-piece band who have progressed beyond Rateliff's folky roots to establish their own rich, deep and complex sound, and who promise to be an excellent addition.
Gaz Coombes joins the Saturday line up, still riding high on the success of his 2015 Mercury-nominated album Matador. Old favourites Turin Brakes returned to the music scene with their 2016 album Lost Property, which will no doubt be featured alongside such classic songs as 'Painkiller' and 'Underdog'. Other Saturday highlights include Australian four-piece Hiatus Kaiyote, and Des Moines crooner Max Jury, who incidentally named his French bulldog after Emmy Lou Harris. Enough said.
Sunday's line up features the excellent M.Ward, whose latest album More Rain is inspired by self-reflection on a rainy day – which may prove poignant if the heavens decide to open. Other headline acts from Sunday include The Horrors, Suede, and Peter Hook and The Light performing the hits of Joy Division and New Order.
For tickets visit www.togetherthepeople.co.uk
Words: Mary Liggin