Karl Blau sets out his stall wonderfully on the opening track of his latest record. He has recorded around 40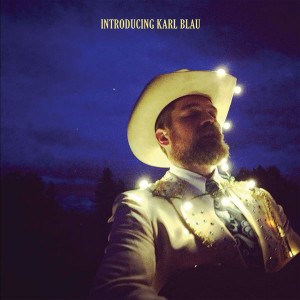 albums over an indie-rock career spanning around 20 years and has now re-designed himself as a country crooner. That it sounds this natural and effortlessly familiar is worth a huge nod to Blau's musical capabilities as well as skills of re-invention. He clearly loves this genre and has dived into its pool without hesitation.
From the off it's hard not to be bowled over. The expertise with which it all comes together and feels like it could be a long-lost classic from any of a number of acts who make such good music is quite rare. When we reach 'Fallin' Rain' it becomes very clear that something rather special is going on here. Yes, those sound like sleigh bells, but it feels like music for any time of the year. It glides into the consciousness and consumes it. It's an instant classic, and at just under 10 minutes long it somehow doesn't feel long enough. It has to be heard.
It all flows so well, so naturally, and Blau has found his voice. Like an American country version of Richard Hawley, he takes us back in time, to some of the classic sounds of the past, with a voice that somehow captures that era's very key to success. These songs may be a collection of late 60s/early 70s covers but Blau makes them his own. In fact, you might go as far as to suggest he makes them his own. Maybe they were even written for him, without it even being known. This is a stunning set that truly does 'introduce' the limelight to a man thoroughly deserved of it.
There's no denying that some covers albums lack the finesse or punch of the originals, this is a set that has endless new life breathed into these tracks. Watch the man sing with a vigour and panache that people are often lacking when it comes to covers. Karl Blau has not only introduced himself via the means of other people's songs and done so multiple albums into his career, but he has probably totally redefined what his career is and can be, whilst finding his mojo in spectacular fashion.