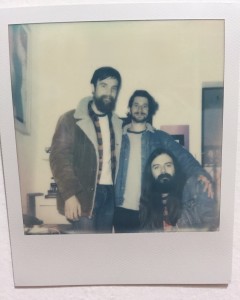 I had a sneaking suspicion that the evening, set in the basement of a secluded private members club in Shoreditch, The Kings Head, was going to be a showcase of great music, for two reasons. Firstly, curated by Mahogany, if their live events were anywhere near as captivating as their video sessions, we were in for consistently good music. Secondly, and more specifically, I had already seen the opening act Hanging Valleys (formerly Thom Byles) perform at the Slaughtered Lamb earlier this year, and had been mesmerised by the trio's delicate instrumentation and haunting vocals.
Hanging Valleys are blessed with an utterly distinctive sound, a niche within the fairly cluttered indie folk genre: Thom's gently plucked nylon stringed guitar underpins the songs, while Mike Phillips' electric guitar and Alexis Meridol's samples beats layers filled out orchestration, which has the feel of a fresh woodland in the mist. Thom and Mike's falsetto vocals were unassuming, sitting faint over the softly pulsating music. If you like fragility in your music, you would love their songs, with 'The Great Outdoors' a particular favourite of mine.
Gently nodding their way through their songs, they're equally as modest in their inter-song stage chat, charming the crowd with affectionate stories about their rehearsals and directing people to their Soundcloud page, where you can find their affecting new single, 'Endless Wave'.
Next to the stage was Rhys Lewis, who coincidentally I had shared a stage with Ronnie Scott's two years ago – his slick, bluesy sound of electric guitar, keys, bass and percussion, and his well crafted songs had the crowd bouncing. Dividing his set with a heart wrenching stripped back solo track called 'No Right to Love You', he exhibited all the hallmarks of an accomplished songwriter and energetic performer who'll likely go very far indeed.
After a brief exploration of the club, which features a remarkable array of taxidermy – lions, tigers, giraffes, a koala, a wall of butterflies, and even a monkey with a machine gun! – I came back down into the glowing basement for the final act, Bacchus. Reminiscent of early Villagers with a darker edge, they wove together hauntingly beautiful songs, with layers of piano, electric guitar, bass and percussion, providing a poignant end to a special night of music.
Words: Ned Mortimer