It's impossible to listen to Thomas Cohen's Bloom Forever with out mentioning the death of his wife,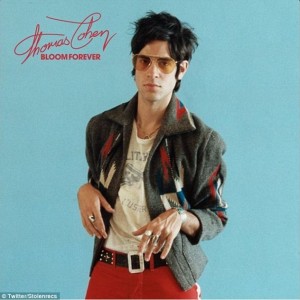 Peaches Geldof. The album, nine songs written between 2012 and 2015 are presented in chronological order with Geldof's heroin overdose in 2014 being the LP's halfway point. The resulting disc, largely recorded during Cohen's retreat to Reykjavik, Iceland, offers insight into the process of one 25-year-olds healing and moving forward.
Acoustic guitars dominate the album, yet a variety of influences appear.  Connections to artists like Townes Van Zandt, Judee Sill, Tim Buckley, and Van Morrison all serve as touchstones on Bloom Forever. Traditional and timeless, Bloom Forever sounds totally unique. Album opener 'Honeymoon' is a languid tune with a guitar phrase reminiscent of Albatross-era Fleetwood Mac. A crazed instrumental break sends the song on a voyage to the weird edges of music before Cohen's voice refocuses the track.
The track 'Bloom Forever' was written after the birth of Cohen's second son, "close your eyes for the first time, sweet child, hands together, bloom forever." With a simple backing of keys, guitar, bass and drums, Cohen emphasizes the fragility of that moment, spiked with an electric guitar solo shattering the calm in same way a child's cry does. While the music initially tends to be gentle, electric guitars are used to create counterpoints to the gentility of the music, essentially a wild voice in the wilderness.
The fifth song, 'Hazy Shades' is the first of five tunes written in Reykjavik. On these songs there is a more electric sound. The change in tone of the music is also evident lyrically in a determination to find a way through the tragedy and back into the light. A lyric like, "My love had gone, she'd turned so cold, why weren't here eyes covered and closed," exposes the pain and loss.
Willful eccentricity abounds. Guitar solos collapse rather than conclude. Yet there is a sense of order amongst the chaos. The final song, 'Mother Mary', builds to a huge string-driven conclusion, stopping abruptly rather than letting the final notes linger. Throughout Bloom Forever Thomas Cohen emotions are laid bare, nothing is hidden, nothing obscured. He's navigating a minefield of emotions. That Thomas Cohen has begun to find his way out is a testament to the healing power of music.
Words: Bob Fish