Though her musical career has been birthed from out of folk roots, Irish singer-songwriter Naomi Hamilton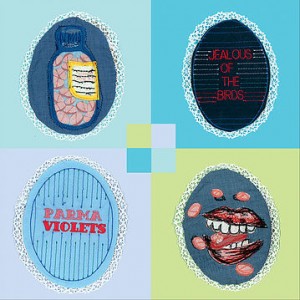 paints a much broader picture than any particular genre could dare to encapsulate in Jealous of the Birds' Parma Violets. On Parma Violets, Hamilton fuses pieces of folk, varieties of rock, and more pop-oriented leanings to produce what could only be accurately described as, in sheer fashion, an impeccable indie record. At its forefront is the listenable, dreamy palette of folksy instrumentation and an infectious whistle as its core riff of lead single "Goji Berry Sunset", which does itself well in its call-and-response composition to reflect Hamilton's rootsy background without delving too far into tradition. This ultimately offers itself well as a fine opener to a record like, Parma Violets, which, despite its myriad of variances that make it a pleasantly unpredictable album upon first listen, is very clearly sewn together with Hamilton's heartstrings.
For those that think they've gotten Jealous of the Birds pegged just after listening to the sunny superfruit song, however, would be mistaken. Although the ethereal and mildly psychedelic crooning on title track "Parma Violets", with an onset of beautifully simplistic brushes with the piano acting as its musical focal point, isn't too much of a sonic jump away from the soundscape on display in "Goji Berry Sunset", "Russian Doll" sure is. It's an understated number that is delectably lo-fi, resonating with nostalgic guitar licks and a retro drum machine, to boot, all wrapped together in a bite-back lyric regarding a breakup that makes the song unmistakably punk to its core.
It's from there that the genius of Ms. Hamilton fully comes together. She has managed to create an album that is fully cohesive, yet remarkably inviting in due regard to its variance, as well. Her soothing tone remains at the center of her vast ongoing ensemble of influences, melding together any number of sounds that would normally remain dissociated with one another into a singular entity. That entity, of course, is Jealous of the Birds – a name that well should become one of the better known entries into the modern indie music scene before long.