The last place you'd expect to find an Australian band that combines folk, rock, heavy-metal, and prog,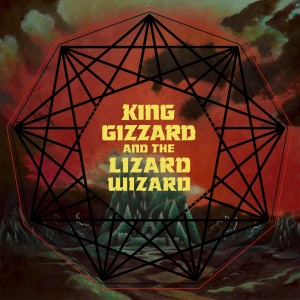 recording would be Daptone Studios in Brooklyn, but that's where King Gizzard and the Lizard Wizard recorded their first release of 2016, Nonagon Infinity. 2015 saw the band issue two albums, the proggish Quarters, and the folk influenced, Paper Mâché Dream Balloon. Instead of the funk-fest expected from recording at Daptone, Nonagon Infinity is an almost metalish nine-song continuous-loop, adding to the legacy of this boundary-trampling band.
What may initially seem off-putting starts sucking you in. Rapid fire and riff heavy like Motorhead, yet intricate and spacey like Yes, complete with the odd time signatures of King Crimson, the album is a master-class in willfully compelling music. The simple phrase "Nonagon Infinity opens the door," is the initial key to a pathway built upon the band's sonic diet of Sabbath, Motorhead and Metallica. That this album has taken two years to record is a testament to King Gizzard's determination to making their infinite loop concept work perfectly.
Yet the never-ending nine-song concept would be worthless if the music didn't stand on its own. The opening police siren guitar salvo of 'Robot Stop' establishes a oppressive, paranoiac environment. That sense of paranoia only increases on 'Big Fig Wasp', where the male of species is forced to kill itself to preserve the species. Unrelenting, 'Gamma Knife' assaults the senses while praising the surgical tool that burns cuts into the skin.
After pummeling listeners into submission, 'Mr. Bea't is almost a relief with its gentle structure, swelled harmonies, and funky organ. Just as quickly, 'Evil Death Roll' throws you back into the maelstrom of rapid fire drumming and doubled guitars. Again and again, King Gizzard repeat the opening refrain, "Nonagon Infinity opens the door," in a variety of different contexts. The final track, 'Road Train', propelled by a heavy trampling bass riff, lays waste to everything in its path before segueing into the riff that leads back to the opening track.
While the notion of a continuous loop listening experience is intriguing, Nonagon Infinity is definitely not for the faint of heart. You probably should have a note from your physician before listening. Prepare for an aural journey unlike anything you've experienced before, compliments of King Gizzard and the Lizard Wizard.
Words: Bob Fish