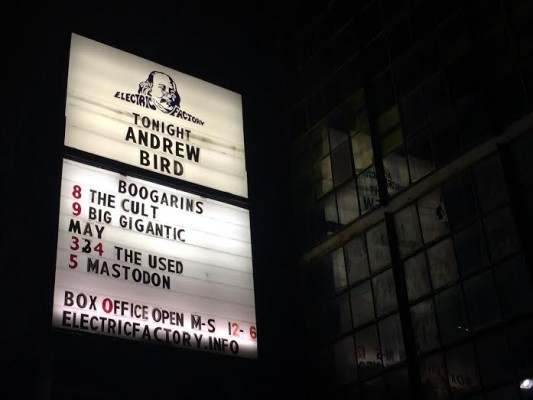 The Electric Factory is a far cry from the clean and cool converted train station venue, Union Transfer, where Andrew Bird last played in Philadelphia supporting 2012's Break It Yourself. The Electric Factory is quintessential Philadelphia, from the Ben Franklin logo to the somewhat trash warehouse/loft vibe. On the right night, like tonight, it can feel like a black box theatre. It is an assuming building and were it not for the lit up marquee, it would blend in with the other converted warehouses of the neighborhood. It seems to fit Bird's new attitude with Are You Serious – introspective, self-aware, and unpretentious.
At first, I'm nervous, as the uber-hip experimental jam band Boogarins seemed like an ill-fit opener for Andrew Bird (the last time I saw him, the charming cabaret pop artist Patrick Watson was opening). I, along with the rest of the varied audience, wait anxiously until 9:15 when Bird finally takes the stage. Spot lit just off center stage, he starts with some "tuneful" tuning, reminiscent of the noodling sounds before an orchestra performance. Scattered catcalls and cheers come from the audience before Bird explodes into his opening song 'Capsized' off the new album. It seems like a bold choice to open with his first radio single from the new album, the song that presumably has brought out the new Bird converts, but I realize I've underestimated Bird. I've forgotten how much of an absolute rock star he is. He strikes me as ageless, and I'm in awe watching how, with flawless ease, he switches instruments, creates loops, and never leaves the microphone. I can't take my eyes off of the stage.
After raucous applause, Bird plays the opening chords of 'Tenuousness' off of 2009's Noble Beast. The crowd shouts approval for the fan favorite throwback, as Bird plays the violin riffs of the song almost gesturally. I notice that his violin is actually like a third arm or a limb, always attached to him and put into use automatically, without a second of thought. He follows up with 'Lusitania' from Break It Yourself. His melodic whistling is even more sublime live than on any recording. Feeling more comfortable, Bird greets the crowd – he's not staged at all, and candidly makes jokes at his expense asking, "What would it feel like if I was that guy that came out and gave high fives to the front row?" while chuckling. He even says the name of his new album emphatically, with an air of the 90's catchphrase "as if."
He plays almost the entirety of Are You Serious and the newness of this tour is apparent. He makes small mistakes starting his new songs here and there, but being Andrew Bird, this is just endearing and the audience cheers him on with words of encouragement (being Philadelphia, this a big deal considering that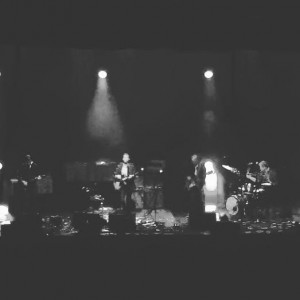 fans of anything in this city are known to be harsh). He is more physically involved in his songs than I remember from before – gesturing wildly and bobbing his head and wiggling left and right. He is also more powerful and commanding than he was on his last tour, emboldened perhaps by his new attitude. He goes for big vocals on 'Are You Serious' and 'Left Handed Kisses'. He sings both his and Fiona Apple's parts of the duet, hamming it up by turning to face the other way for each part and absolutely nails it!
He finishes with the confessional 'Bellevue', the last track of Are You Serious, but for the encore, he goes back to Break It Yourself with 'Give It Away' and the joyous, Paul Simon-esque 'New Saint Jude'.
While the new, bold, and adventurous Andrew Bird is excellent in every way, it's refreshing to see that as he grows he holds onto his best qualities and abilities. His touring band is only three members, his stage is still full of amps to warp the sounds of his many instruments, and he relies on a looping machine to create symphonic layers. His iconic whistling is in peak form. Midway through the show, he launches into 'Imitosis' from 2007's Armchair Apocrypha – he manages to whistle, while playing the bells, while playing guitar. He's an absolute champion and an incredible performer.
Catch Bird touring the US and Europe until the end of May.
Words and photos: Haley Velletri