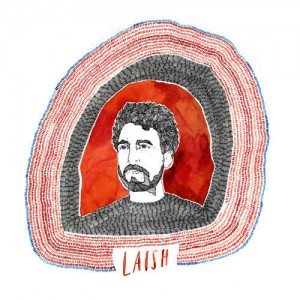 In last week's on FFS Artist Blog, Danny Green aka Laish, gave us some insight on his upcoming release, Pendulum Swing. I can confidently say that the EP Song For Everything and the titular single will satiate you while you wait on baited breath for the full album. Simultaneously sophisticated, poppy, simple at times, experimental at others, Song For Everything is like a tasting plate of all of Laish's best abilities, honed and carefully fashioned over his prolific career.
Each song is deeply individual, but complementary to the others, excellently curated and recalling the careful craftwork of Noah and the Whale's 2009 release First Days of Spring or Beach House's Bloom from 2012. At times haunting and at others joyous, with small surprises throughout, like a swell of strings or purposeful seconds of silence on 'Rattling Around' and the pop/prog guitar riff on 'My Little Prince', Song For Everything is 13 minutes of perfection.
But the thing that makes this EP so excellent isn't its catchy, early 2000s indie throwback vibe or the excellent instrumentation. It's the very soul of what it's about.
This album is just so utterly human.
Last week, Green wrote about how alone he initially felt in trying to create and release a body of work. Song For Everything is soaked with lyrics discussing the physical and mental loneliness of the creative process, and the consequences that come with it. It gives us that feeling of frustrated alone-ness and the desire to be with people fully – Green croons on 'Song For Everything', "I'm trying" over and over again. He admits "I like to feel surrounded / in a solitary way." His descriptions of the creative process are on the nose and any artist can relate. On 'Rattling Around', Green laments the fact that there's something in his subconscious at all times. On 'Learning to Love the Bomb', he admits that "the only true currency / is a moment uninterrupted."
Green wrote last week that these were his best songs yet. I have no doubt he is telling the truth and I happily await the album. You can still help this album become a reality and get hold of new Laish music by checking this link.
Words: Haley Velletri