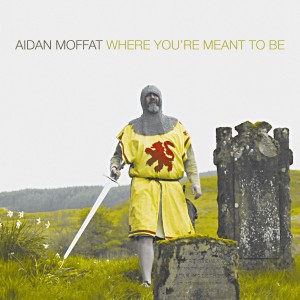 In May 2014, former Arab Strap frontman and songwriter Aidan Moffat decided to make a film set out on a tour of his homeland of Scotland to explore the country's past by rewriting, updating and touring its oldest songs. Along the way, he met 79-year-old travelling balladeer Sheila Stewart who challenged Moffat's assumptions, believing the songs should stay in their original form. The film ends on the stage at Glasgow Barrowlands Ballroom, the same place where it had its premiere in February of this year.
This is the soundtrack to the film, recorded at Drumnadrochit Village Hall towards the end of the tour. Moffat, known for his cutting lyrics and acid tongue, apologises to the audience at one point for how upbeat some of these songs are. It starts with the title track, a unaccompanied call to arms where Moffat and his unnamed drinking partner wind and wobble their way across the streets of Glasgow before ending up in the place they should have gone to in the first place. It's like a modern day version of the theme tune of Cheers.
Some of the songs like 'The Ball of Kirriemuir' are beyond explaining on a family website and many of the songs are definitely NSFW or children's parties either. Yet, Moffat is excellent at changing pace across the course of the album, with 'Abduction Lullaby' and 'Ode To O'Brien Et Al' especially challenging more serious subjects, child abduction and the opposition to gay marriage respectively in the case of those two songs.
Moffat has a way of making the listener feel like they're always in the room throughout the album, with the stomping feet calling for an encore left on as Moffat ends the evening and the album with 'Saving the Ladies', raising a toast to the audience as he does. It's a song about a drinking game where the men used to declare their love for their sweethearts until there was only one man left standing. After Moffat leaves the stage, he makes sure that the whole audience is left standing to applaud their hero to the wings.
"May the pleasures of the evening bare the reflections of the morning. Cheers."
Words: Mark Buckley