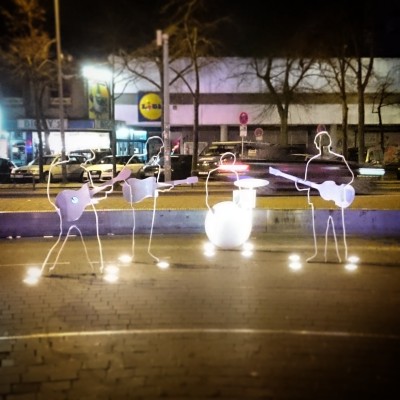 Entry number three in Joe's tour diary and we find him frightening children (oh, wait, were they howling with laughter instead?), hanging out with the Beatles in light form (see above), and scraping car fenders. Read on…
We arrived in Bremen after having driven through five countries (six if you include Holland AND The Netherlands). We met with our promoters Songs & Whispers (we were early again… because we're squares), and visited the flat we'll be calling our home for three weeks. It's covered in tour posters and takes me back to student digs.
At the flat we met the other artists we're touring with. There's Jesse Ruben, an American singer songwriter, who most recently released this pop hit. He's also hilarious. Guitarist Zach Comtois is playing with him – his day job is playing for Britney Spears in Vegas. No big deal. I like them, they get all my cultural references, and we can all quote Wayne's World all the way through. We're also playing with Matt Henshaw, a soulful singer songwriter from Nottingham and a thoroughly nice bloke, he's been on this tour before so knows what he's doing.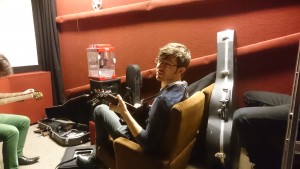 In the past week, we've played so many different places – sometimes on the same bill, sometimes we've gone our separate ways across the country. Hearing Jesse, Zach and Matt play almost every night has been great. We've played in bars, cafes, community halls, even schools. We played to about 70 kids on their lunch break, and had them all howling by the end of it. After the show they all bought up scrap pieces of paper for me to sign, which was both strange and hilarious. We've also eaten a tonne of sausages…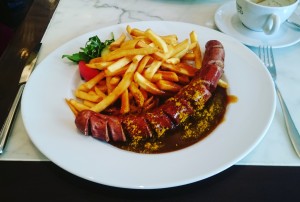 Some shows have been more… er… challenging. We played one in an packed smoky pub (you can still smoke inside here, it's bizarre) in a seaside town called Cuxhaven. Pretty much everybody was drunk, and all they wanted was covers. I know a few, but nowhere near enough, and my songs about dead rats and vampires didn't really cut the mustard. Luckily I was playing with Matt who is a human jukebox, so he had them singing along until midnight.
These photos are from my favourite show so far, we played a night at a community hall in Bremen, which had a big theatre-style stage, and an appreciative and attentive audience – an acoustic act's dream. Lots of people came up to us afterwards to say hello, and some have turned up at gigs since, so I'm already starting to see plenty of familiar faces in the audience. Thanks to Joanna Chlebowska-Krause for taking these photos.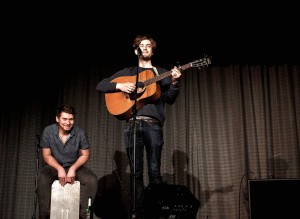 This brings me to our show in Hamburg. The gig was great fun, and the city was beautiful. We visited the Reeperbahn and the Keiser Keller where The Beatles played – which was super cool. The drive home was nicht so gut. A half-asleep German cab driver tried to overtake me, but misjudged the distance and ended up clipping the front of our rental car and scraping it. Luckily, I'd got the extra One Sure Insurance. Captain Sensible wins again.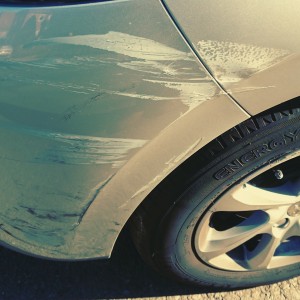 As well as the tour, this week our Indiegogo campaign for recording our new album reached £2,000! Thanks a million to all of you who've supported us – it's lovely to see messages from home while we're away. I've been sending out postcards from Germany to those who've supported, and you can sign up for them here: igg.me/at/joeinnes.