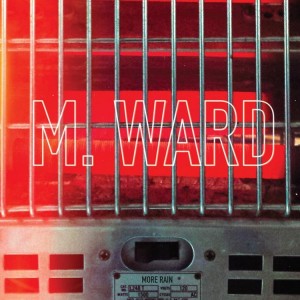 Remember that favourite jumper you used to wear all the time? The one that is in every photo from 4-5 years ago, and which now is probably lying at the bottom of the wardrobe, just waiting to be put on again? The feeling of warmth that you get when you put on your favourite jumper is similar to the feeling of listening to a new M. Ward record. It just feels right. This, More Rain, his eighth LP under his own name, not counting the records made under the alias She & Him with Zooey Deschenel, nor his collaboration with the Monsters of Folk, is a delightful record, and continues Ward's trend of releasing nice songs.
Beginning with a minute of rainfall (as per the title of the record), the first 'proper' track is 'Pirate Dial', a soft, acoustic delicate affair that fits in well with the rest of Ward's previous canon. A rather more leftfield cut is 'Time Wont Wait Up', a rockabilly stomp which is guaranteed to act as the proverbial earworm once heard.
'Confession' continues the rather jaunty nature of the previous track, with a baseline so low it would sound perfectly on place on a New Order or Joy Division 7". 'I'm listening' apes the chamber-hall sound of Richard Hawley, music to slow-dance too, and is a rather charming track. 'Temptation' acts as one of the highlights of Side 2, another rollicking number which captures the essence of M. Ward perfectly. "The last time I tried to leave this club, I said I can't dance no more/Temptation dragged me back across the floor" summing up how most party dwellers probably feel on a Friday night.
Closing with 'I'm Getting Higher', Ward channels his inner Buddy Holly, the beat rooted in the sound of late 50's rock and roll. M. Ward might be a musical magpie, but when he can craft tracks such as the ones found on More Rain, and pay homage to the acts that are musical influences, it proves to be a useful skill to have. It's time to put that favourite jumper back on.
Words: Joe Sweeting