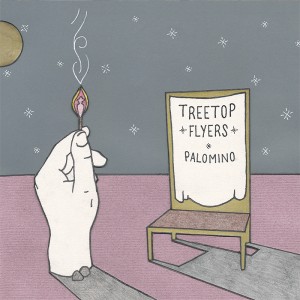 The release of Palomino by Treetop Flyers is something of a miracle. Since winning the Glastonbury Festival Emerging Talent Competition in 2011, and the release of their first album The Mountain Moves two years later it should have been a perfect world for Treetop Flyers. Yet within eight months bassist Matthew Starrit had left, and that's just the tip of the iceberg. Dead parents, broken marriages, personnel changes, and a raft of bills threatened to sink the band.
It's amazing that Reid Morrison, Sam Beer, Laurie Sherman and Tomer Dana found the strength to continue. But what doesn't kill you only makes you stronger, and Treetop Flyers have emerged from the depths of despair to release almost an hour's worth of some of the strongest music in recent memory.
Produced by the band and mixed by Jonathan Wilson (whose solo albums are also worth checking out), what has emerged is simply brilliant. The buzzing synth that opens 'You, Darling You' is quickly joined by chiming acoustic guitars, creating a song tinged with the sadness of a fragile relationship split apart. The twin guitars of 'Sleepless Nights' have an Allman Brothers-ish feel before straying into their own territory, finally ending with synths disintegrating as fragile acoustic guitars place the song in very different territory from where it started.
'Lady Luck' with its "Lady Luck save me from this shipwreck" chorus could be speaking directly to the myriad of issues the band faced moving on from the disastrous occurrences following the release of their first album. The folk of 'Dance Through The Night' rocks like a mother, complete with snatches of a guitar rave-up and an organ part from the Doors handbook. Reid Morrison's 'St Andrews Cross' offers a simple, yet heartfelt acoustic ode to his departed father.
Seductive music in the best sense, riffs take hold in your consciousness and don't let go. The five notes of slide framing 'Never Been As Hard' are immediately familiar, yet deliver the punch needed to make song unforgettable. The piano freak-out that ends the piece combines patches of gentility with the almost unlistenable, bearing witness to the song's lyrics. Guitars come to the fore in 'Wild Winds' with a soaring, yet brief, guitar solo framing the message of the chorus, "Never let your wild winds blow."
Treetop Flyers faced trauma and disaster coming to the only logical conclusion, making music to play their way out of intolerable situations. In doing so, they have come up with music that is sure to be included in many year-end top ten lists. Procure this disc immediately!
Words: Bob Fish