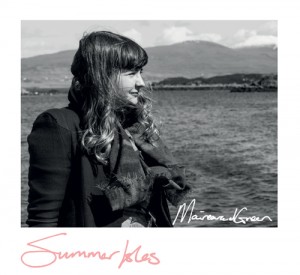 Mairearad Green has been a regular on the folk music scene for years now playing with the likes of Box Club, Mairearad and Anna, with guitarist Anna Massey, and the poozies. Summer Isles is an ode to the islands near Mairearad's home, using a mix of instrumental tunes and songs to evoke images of this beautiful landscape.
There's a lot of space in the music helping the listener be transported away, making for a relaxing album you can sink into. Mairearad spent time researching some of the stories and folklore that surrounds the Summer Isles and there are interesting tales told in the songs. 'Star of Hope', sung by King Creosote, is named for a trading ship that used to come to the Isles from Orkney. Three of the lyrics were taken from the poetry of Jan Kirkpatrick and there is clearly a lot of thought gone into what music they would best be suited to. 'Red Throated Diver' begins with the faint sound of water before giving way to a relaxed piano driven tune which, in turn, switches an accordion fronted waltz.
Among Mairearead's many musical talents is piping and this comes to the fore on 'Seanchaidh'. It builds a bit of suspense before coming in strong and even includes some cantarachd, this is when voice is used to mimic the sound of pipes. It's quite a relaxing album but there's plenty to find in it and keep the listener occupied. It's come right in time for spring and is perhaps best listened to in the great outdoors.
Words: Eala MacAlister