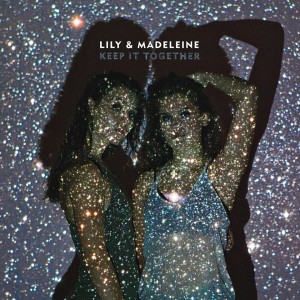 Lily and Madeleine Jurkiewicz, sisters from Indianapolis, appear to have a knack for delivering consistently high quality records, sung with a breathy style that is beautiful to listen to. Keep it Together is their third LP, and stands alongside their eponymous debut, and 2014's Fumes, as a record which almost demands constant playing.
The record opens with 'Not Gonna', a sultry, moody re-introduction. The jazz beat in the background is unhurried in its delivery, the girls' vocals sparsely orbiting around the piano and the drums. This relaxed, late-night vibe is replaced by 'For the Weak', which sees the sisters taking a musical journey along the east-coast; it is very 90's stoner-rock, but all the better for it. Both Lily and Madeleine's vocals are pitched just right for the sound; and a killer guitar solo adds an extra element to the track.
It is easy to imagine this being played on many a road trip in the summer months across both sides of the Atlantic.The tone changes once more with 'Westfield', a track that would sound just at home on Fumes as it does here. Utilising an electric drum machine, it combines a slow hand-clap beat with yet more breathy vocals, both mixing to form probably the best 'pop' song not to storm the charts. It is puzzling that if it was, say, Rihanna, singing this, it would reach #1, yet, with two arguably stronger singers in charge, it will be loved by the few, not the many. The Jurkiewicz's are able to flit between the smokey, champagne bar sounds of 'Not Gonna', through the driving summertime rock of 'For the Weak', back to a 3AM vibe with 'Westfield', all without losing stride. It is testament to their versatility.
'Hourglass' is perhaps the best track on the record, and it is unsurprising that it was chosen as the lead single for the record. As a showcase for the sisters' talents, it works almost perfectly. "I'm well aware that out my window/ There's so many places to go/ But all in good time" sums up the career progression of the girls thus far. Having 'grown up' into young adults across their three records, it is little wonder that Lily and Madeleine are happy to wait to travel; when they are making records as good as Keep it Together, their experiences to date are proving to be ample resource material.
The record closes with the sound of birdsong on 'Nothing', and if 'Not Gonna' was the late-night/early-morning sound of a night out, 'Nothing' is the sound of waking up, all softly sung and delicate. The harmonies are deft, and provide a sense of warmth. The content matter – "You knew the way to my heart better than I knew myself/losing you was harder than anything else" – is considerably less warm, and changes the dynamic of the track, acting almost as a kiss-off to a former lover than a sweet lullaby. It is a fantastic track, and sums up just how talented Lily and Madeleine Jukiewicz are. Not a perfect album, but a damn fine one.