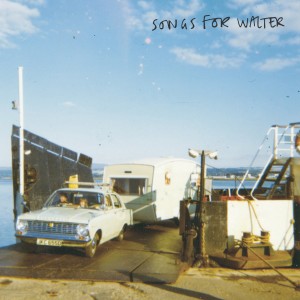 Laurie Hulme, under his non-de-plume Songs for Walter, has crafted a LP in homage to his late grandfather, the eponymous Walter, 13 songs which verge between the biographical ('Moon/Two out of Ten' refers to Walter's uneasy relationship with the idea behind space travel) and the reminiscent ('Standing on Snails' sees Hulme looking back on his walks with Walter as a youngster).
It is a unique concept-and is definitely one that deserves time to be enjoyed and treasured. Lead Single 'Useless' sees Hulme accompanied by an astute backing band, who musically replicate a similar sound to American-surfer band The Drums, shimmery guitar hooks are played over a catchy melody, whereas 'Dunkirk' has the urgency of a modern day Maccabees track, with a screeching guitar sound that is designed to fill halls around the country. The idea behind this record might seem twee, but musically, it contains bite and grit, adding meat to the acoustic bones that surround the majority of the tracks on the record.
The rest of the record is as much of a delight to listen to as the first handful of tracks. 'Meet You at the Empire' recounts Walter's first date, promising that 'I'll be waiting, recalling in the minds of the listener those nervous moments before their first dates, the butterflies in the stomach, the un-knowing of what was to come.
'Competition, Diffidence and Glory' is a top-tapping hoe-down of a track, and 'Final Project' is wistful, looking back on Walter's life, with Hulme baring his emotions about his grandfather most eloquently. 'Look back and laugh at the end of the road/when the time comes I'll take you home' could allude to Hulme and the late Walter meeting again, spiritually, a nice sentiment to end the record on. For someone clearly so devoted to ensuring his grandfather's legacy remains, Hulme has created an audio memory that does so much to stir up similar emotions in the listener, and in doing so, ensures that Walter, whatever type of man he was, will be forever captured in the spirit and essence of these 13 songs.