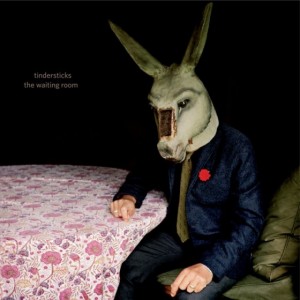 Tindersticks' 11th long player starts in stunning cinematic instrumental fashion, and it's not hard to see why the band is known for soundtracking films and other events (see 2014's 'Ypres' that accompanies a first World War museum exhibit). 'Follow Me' is a brave and perfect opener, that states the act's confidence and ability in one majestic swoop. This is a band to welcome the return of.
The Waiting Room continues to wow, coming on like some close relative of Mercury Rev's classic Deserter's Songs. Perhaps the similarities between the two records don't last all the way, but there's no mistaking that this is a band growing with every year. This isn't music made to please anybody, but to give value to life and the minutes and seconds therein. The fact that it ends up being incredibly pleasurable is a by-product of its heart, and what has been put in. You don't reach an 11th album without being true to yourself and your vision. Let's face it, many acts never get half way there.
The album shapes up like a wonderful soundtrack to a film yet to be made. It effortlessly glides across the foreground, yet would sit perfectly if it were shifted to the background too. Such is its gentle imagination it doesn't vie for any more attention than it might get, and while the vocals are delightful all the way through it's the utterly entrancing music that presents it as music for films. It's an intoxicating mix that tastes like an early album of the year on the tongue already, and at times it sounds like Nick Cave has turned British.
So, here is the first beauty of 2016. It's elegant, it's sophisticated and it's absolutely essential. Whether you let it take the foreground or the background you cannot go wrong with this pearl of an album. This band just keeps getting better. This is a band to put Nottingham in England on the musical map, and here is an intelligent banquet upon which to feast over during the coldest months of the year. It's an instant friend and companion. Go and find this record now!